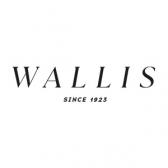 Hi Affiliates!
Summer specials! Wallis have got some great promos this weekend to help us celebrate the hot weather!
• 20% off all Maxi Dresses
• 20% off all Trousers
• 20% off all Sandals
• Free WORLDWIDE delivery on all orders over £30
A number of new banners to help promote these summer offers are now available! To find them in Darwin, hover over Links & Tools and click Banners & Links.
Examples:
250x250:
125x125:
468x60:
Any questions, please get in touch at: wallis@affiliatewindow.com
Many thanks,
The Wallis Affiliate Team