Wallis Secret Online Sale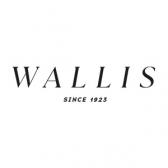 Shhh.... Wallis' secret online sale has been extended! Get up to 50% off EVERYTHING! Hurry ends midnight Monday!
A number of new banners to help promote this secret event are now available! To find them in Darwin, hover over Links & Tools and click Banners & Links. The up to 50% off banners are saved under 'Key Promotions'.
Examples:
250x250:

125x125:

468x60:

Any questions, please get in touch at: wallis@affiliatewindow.com