Three steps to getting free print forever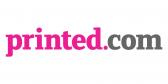 If you work in the design and print industry, chances are that you have colleagues, acquaintances and friends who all print too. So what if we said you can earn yourself extra reward points just for having these friends? You would be swimming in free print until the end of time, and that's surely got to be good for business.

We'd like to introduce Your Printed Network: our newest way to reward you for doing what you love…printing! So what do you have to do to gain all these bountiful rewards? It's very simple indeed, read on and find out.
First thing's first, where do you find Your Printed Network? Just go to My Account, and find it in the left hand menu. You can earn your free print in just three easy steps:
Step one
You need to invite people into your network before you can start earning those extra points. We know that social butterflies like you use a lot of different methods to communicate with your print pals, so we've given you six different ways to send out invitations.
You can use such social favourites as Facebook, Twitter or LinkedIn, or stick to your email staples; Hotmail, Gmail or enter the email addresses manually. Then just sit back and wait for the invites to be accepted. You can make a cup of tea at this point if you'd like.
Step two
Step two starts when your contacts have accepted your invitation, created an account with us and placed their first order. They'll get a juicy discount for accepting your invite —20% off orders under £100, to be precise. They'll enjoy this little perk for their first three orders, definitely not something to be sniffed at.
Once they have placed an order over £35, you'll find an extra 2,000 printed points nestled in your account. That's the equivalent of £25 of print with us; imagine all the stuff you could buy!
Step three
The benefits don't stop at step two! Every time your contact places an order with us, you gain a bonus 200 printed points (that's £2.50 worth of print) to spend with us. This lasts for one whole year after they accept your invitation.
The more connections you have, the more free print you'll be earning yourself — and if you have as many friends as we think you do — that's a heck of a lotta print! In fact, you may never have to pay for print again!
If you're ready to start getting things for free, head over to My Account now and start sending out those invites!
Tags: free, free print, Print, print network, printer, printers, printing, refer a friend, voucher, voucher code