LateRooms £5 Amazon Voucher Offer - Extended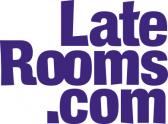 Hello Affiliates,
The LateRooms Amazon voucher offer has now been extended! 
Grab a £5 Amazon voucher to spend when you book your next hotel stay* with LateRooms.com!
Look out for the Amazon voucher icon on selected hotels only.
The offer has now been extended until at least the 18th October and is available on selected hotels, including:
• 4* The Midland Hotel in Manchester
• 3* Old Waverly Hotel in Edinburgh
• 4* Park Lane Mews Hotel in London
• 4* Queens Hotel in Leeds
Banners promoting the offer are now available in Darwin. 
Terms & Conditions
£5 Amazon Voucher Terms and Conditions. Selected hotels only. Laterooms.com have the right to end this £5 Amazon Voucher Offer at any time. Bookings made via phone or via LateRooms.com mobile App are not included in the promotion. Your gift voucher will be issued by email within 5 – 25 working days of your stay. Vouchers will not be issued if you cancel your stay. Amazon.co.uk is not a sponsor of this promotion. For complete gift voucher terms and conditions, see Amazon.co.uk Help: Amazon.co.uk Gift Card and Gift Voucher Terms and Conditions All Amazon ®, ™ and © are IP of Amazon.com, Inc. or its affiliates.
Please email laterooms@affiliatewindow.com to confirm you are promoting and we will provide you with the tracked links.
Best wishes,
The LateRooms Affiliate Team
laterooms@affiliatewindow.com
Tags: accommodation, amazon voucher, laterooms