World of Baths - January Sale Now On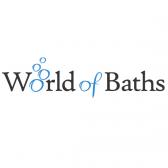 Hey there publishers!
It's our January Sale and we've launched some monster deals across all our ranges.
We're also in the midst of our biggest ever Oak Furniture Sale, with prices slashed by up to 60%, you can see what all the fuss is about!
Update your links and graphics for the best conversions!
As always, if there is anything I can assist you with to help in the promotion of World of Baths, please get in touch!
Happy Promoting!
Kind regards,
Kris Baker
Affiliate Marketing Manager @ World of Baths
Tags: bathroom, sale, World of Baths