---
Wine Gifts From Hampergifts.co.uk
Hampergifts.co.uk are delighted to bring you a selection of Wine Gifts this week. A range of first class hampers including award winning wines. Always beautifully presented, these wine gifts are perfect for an anniversary, birthday, wedding or any corporate occasion.
See our selection below or take a look here for the full range.
Please note, you can receive 5% off your order this month with voucher code MAY5HAMP, valid until 31st May 2016.
At the heart of our best selling wine hamper is a delicious medal winning Chilean Merlot. This elegantly gift wrapped hamper also includes some carefully picked Belgian chocolates, shortbread, chocolate coated honeycomb and other delights which go beautifully with the wine. The Ruby is the perfect gift for a friend or colleague who enjoy a nice glass.

Our Price £37.99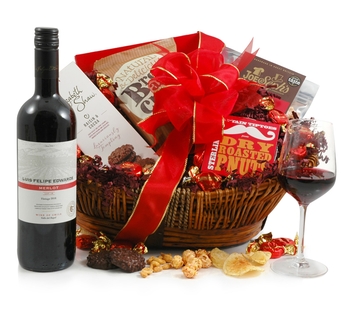 This lovely traditional Wine, Cheese & Pâté Hamper is an absolute winner for friends, family or colleagues. The carefully selected contents include an award-winning, fiery Red Leicester with Chillies and a silky smooth French red, commended at the International Wine Challenge. Uncork the highly-regarded wine and enjoy it with a perfect combination of delicious pheasant pâté and some gold medal-winning parmesan & pepper oatcakes.

Our Price £39.99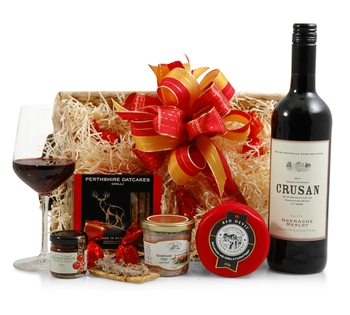 A beautifully crisp sparkling wine from France, a delectable selection of chocolates... and an adorable teddy bear - what better way to surprise someone special. This sturdy, re-usable whitewash wicker basket is packed with sweet temptations including creamy fudge, cinnamon truffles, chocolate coated ginger, sweet cranberry flapjack, honey biscuits and many more tasty treasures.

Our Price £45.00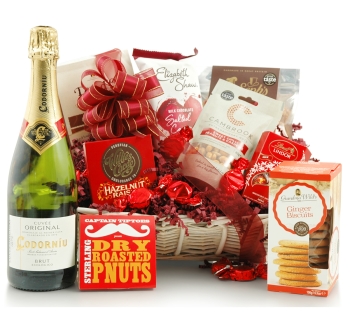 If you're looking for the best of the best, this opulent hamper contains only award-winning items. From highly rated chutney and spiced nuts to gold standard olives, this stunning, magnetically fastened green box makes big promises - and delivers on them! The cracking Spanish wine should be savoured alongside the Snowdonia Cheese Company's flagship extra mature cheddar - not forgetting the indulgent jam, which has a refined and memorable taste at any time of day.

Our Price £54.99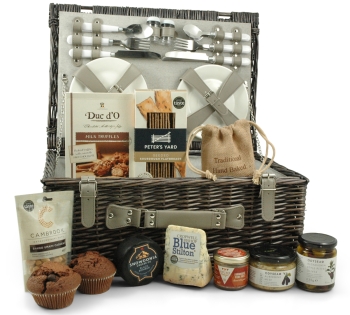 Taste food and drink from around the world with this divine hamper. A perfect present for anyone who appreciates New World wines, its centrepiece is a bottle of delicious red wine from the vineyards of South Australia. Also included in the attractive, hand-made basket is a fine selection of snacks and nibbles, including tasty biscuits, delectable spiced nuts, aubergine imam (a traditional Greek appetiser), plus Belgian chocolates, English jam, butter shortbread and award-winning chutney. And once the lucky recipient has polished that lot off, they'll be ready to brew a cup of the fresh ground coffee. .

Our Price £55.00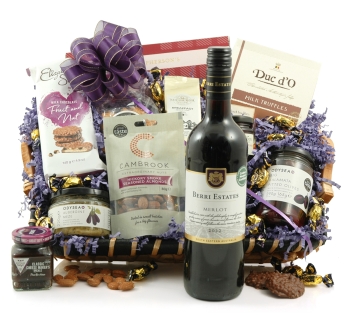 If neither the Ardennes pâté nor the mouth-watering sugar-infused Cherries tempt your palate, you're bound to be won over by the award-winning Rosé from the south of France - a delightful pink-hued wine, presented in a stunning curvaceous bottle. The hand-made seagrass & wood basket certainly looks the part, and with lots of naughty-but-nice treats to choose from, it really tastes the part too. Try medal winning olives, perfectly baked oatcakes or the intensely rich fruitcake. Or dive into the pineapple & papaya in syrup or the Belgian chocolate pralines. Take your time though - everything about this food hamper was made to savour slowly.

Our Price £60.00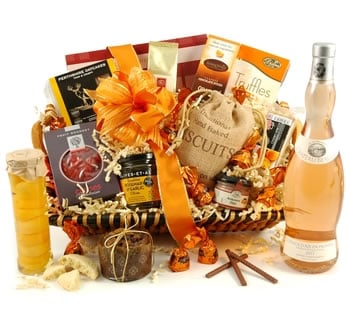 Get ready for a real treat! This deep wicker basket with whitewash finish is brimming with sweet & savoury tastes to relish. Its centrepiece is a duo of medal winning wines; a velvety Merlot from Argentina, and a peachy Italian Chardonnay in a stunning milk-glass finished bottle. And we've not stopped there - among the 20 items crammed into the wicker basket you'll also find Chocolate Almonds, Red Wine Vinegar, Shortbread, Nuts, Fruit Cake, Chutney and lots more. One of our very favourite food hampers, this is sure to leave a friend or colleage almost purring with appreciation.

Our Price £87.50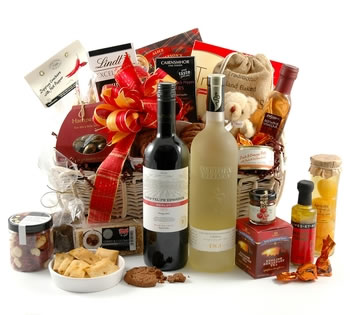 A magnificent gift combining decadence and indulgence, this is one of our best selling luxury hampers. The trio of drinks are all excellent award-winning treats. They include a ripe, elegant Champagne; a soft, juicy Spanish Red; and a double gold medal blended Scotch Whisky. The deep basket is absolutely filled to the brim with fine foods and features no less than 5 gold medal winners.

Our Price £150.00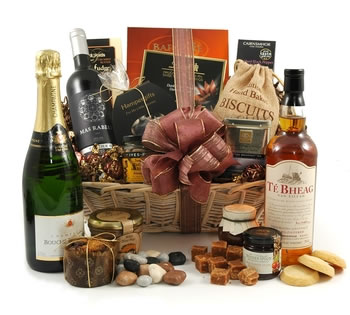 You'll barely be able to lift this superb basket, which is packed to the brim with an incredible selection of food and drink. The lucky recipient will hardly know where to begin! Perhaps with its' centrepiece - the award winning and well balanced Louis Dornier Champagne, perfect to be enjoyed with some of the included chocolates, fruit cake or nuts. Or maybe you'll head straight for one of the three award-winning wines, to enjoy alongside the cheese, chutney, savoury biscuits or one of the myriad of other little luxuries hidden in this supreme hamper.

Our Price £175.00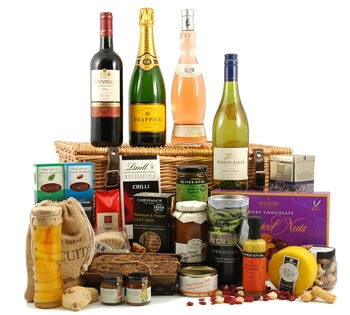 A huge collection of fine food and drink, beautifully presented in a timeless wicker hamper. To drink, this extravagant hamper features Taittinger Champagne, Ruby Reserve Port and trio fine Wines. The deep basket contains a pair of award-winning cheeses, venison pâté, fruits in syrup, chocolates, preserves, olives, biscuits and a huge amount more. The Royal is a great choice for a corporate gift as well as making an excellent luxury family hamper.

Our Price £250.00