---
Wide Range of Trolleys Available at ESE Direct

Wide range of Trolleys available at ESE Direct.
Click here to find out more.
Constructed from tough plastic.
Mounted on large rear wheels and front swivel castors which provides excellent manoeuvrability.
Really easy to move.
Supplied with heavy duty vinyl sack, but NOT other items.
Easy assembly.
From £75.99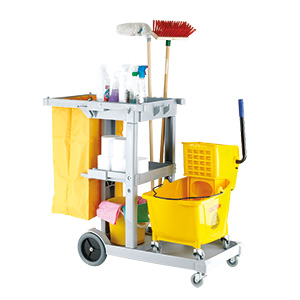 Manufactured from extruded aluminium.
Heavy duty construction.
Ribbed buffers on each corner to protect against damage to property.
Solid rubber ribbed tops reduce risk of load slipping.
Available with either fixed axles or swivel locking castors to allow greater directional control.
The load must be uniformly distributed on the frame.
From £221.49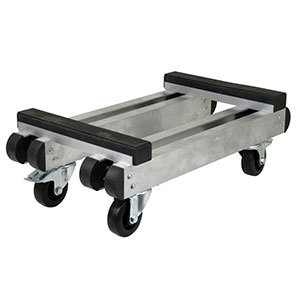 High quality folding trolley complete with yellow foam handle designed for added comfort.
Flat pressed sheet steel base with a PVC surface.
High quality smooth running polyurethane castors.
GIK02Y has two fixed and two swivel 100mm castors while the GIK03Y has two fixed and two swivel 125mm castors.
160kg or 300kg load capacity.
From £78.58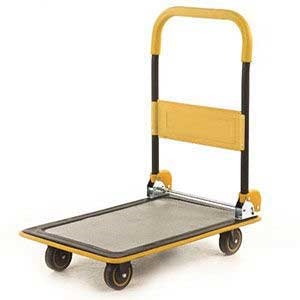 4 swivel rubber tyred plain bearing wheels.
Specifically designed for carrying boards and panels.
Slanted support frame for secure board carrying.
From £219.45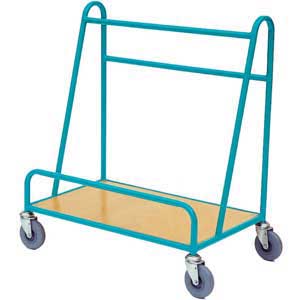 Standard unit includes base and mesh surround only.
Extra shelves available, maximum 3 per trolley at 630, 1050 and 1440mm high, shelves must be ordered with trolleys and cannot be ordered separately.
Key locking security.
Plywood base.
Push / pull handle.
Fitted with 2 braked castors.
500kg capacity.
From £507.20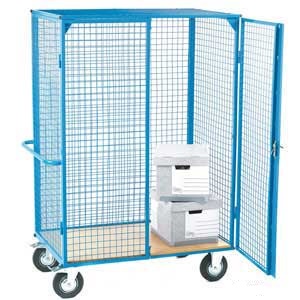 Tubular steel construction.
The folding basket has an internal height of 122mm.
Fitted with 4 x 125mm non marking rubber swivel castors.
Bright zinc plate finish.
500kg Capacity.
From £130.20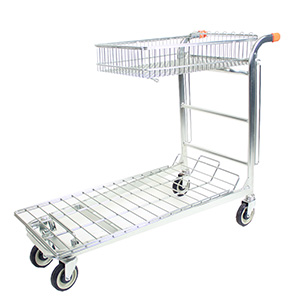 600kg capacity.
3 or 4 sides, along with an enclosed option.
Quick-folding for easier storage.
Rust-resistant coating.
1425mm tall on the inside.
Fitted with two fixed and two swivel 125mm diameter nylon castors as standard.
Optional, factory-fit, rubber tyred (and braked) castors for a smoother ride over uneven surfaces available here.
Optional shelves available for 3 and 4-sided units.
Fixed hinged shelf on the enclosed model.
Please note cages have 2 shelf max capacity, 1/3 and 2/3 height.
From £118.72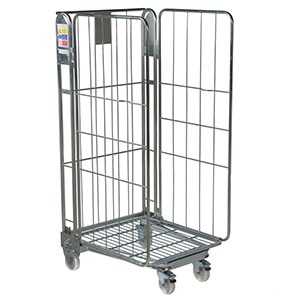 Cranked handles for ease of use when tall items are on the top shelf.
Choice of 2 or 3 shelves.
Standard trolley uses flat shelves.
Lipped trolley shelves have a slight upstand around the shelf surface.
The image shows a 'Standard' type trolley.
75mm castors, 2 with brakes.
210kg load capacity.
All trolleys are 960mm high.
Available with ESD Protection, call our Technical Team for more information.
From £91.20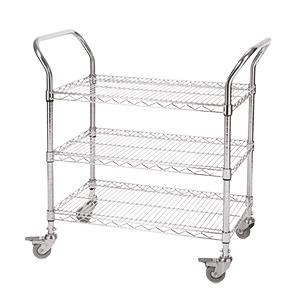 Constructed with pressed stainless steel shelves.
Choice of two, three or four shelves.
Mounted on four 100mm dia. rubber tyred swivel castors.
100kg capacity.
Supplied in knock-down form.
Easy to assemble.
Manufactured by Kongamek.
From £119.27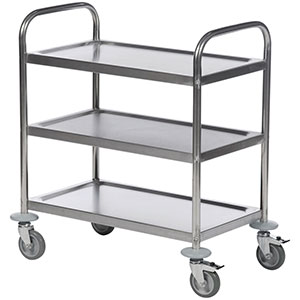 Corner mounted wheels offer best stability for heavier loads.
Drop down sides for easy access when loading or unloading.
500kg capacity.
50 x 50mm wire mesh grid.
All steel welded frames.
Easy steer wheels pivot about centre axis.
Sits on 2 fixed and 2 swivel braked 200mm dia. rubber tyred castors.
From £457.09