---
Wide Range Of Sack Trucks Available At ESE Direct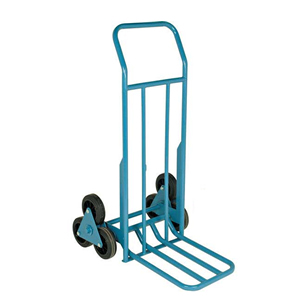 Wide range of Sack Trucks available at ESE Direct.
Click here to find out more.
Designed for transporting stacked chairs.
User can adjust carrying arms to various heights.
The truck to be used as a normal handtruck as the arms detach and can be stowed at the back of the frame.
Tubular steel welded construction powder coated blue RAL 5007
300kg load capacity.
Supplied with 260mm diameter pneumatic tyre wheels.
From £179.10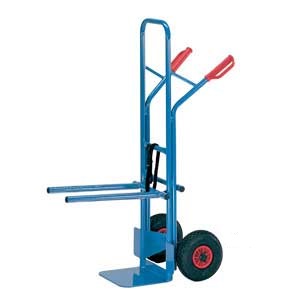 400kg capacity.
Can be used as a sack truck, platform truck or 45° barrow.
Two 200mm diameter rubber tyre wheels and two 125mm diameter swivel castors.
Platform length: 1170mm.
Footiron length: 200mm.
From £189.05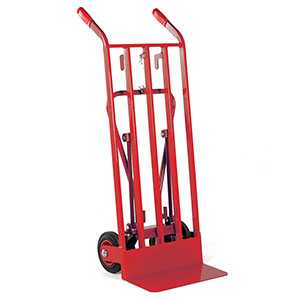 Overall size H x W x D: 1310 x 655 x 710mm.
Fixed toe plate size W x D: 655 x 190mm.
Folding foot plate size W x D: 600 x 405mm.
400kg capacity of fixed foot iron 350kg on folding.
Fixed and folding toe plate to aid with moving various sized products.
Robust puncture proof semi-pneumatic 250mm wheels gives this unit a smooth ride over uneven terrain.
Fully welded steel construction with a yellow paint finish.
From £133.25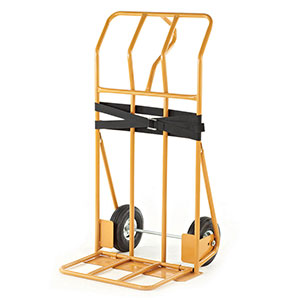 Designed to fold and unfold with ease.
Can be kept in a car, van or outbuilding when not in use.
The wheels have solid rubber tyres.
The frame is rendered in tubular steel.
The toe plate can be folded up to conserve space.
Available in Blue & Red.
From £116.30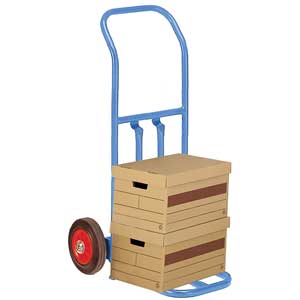 The hand grips are fitted with knuckle guards for the user's safety.
Wheel guards are included to minimise bumps and scratches.
The stairclimber can lift a maximum of 60kg when climbing stairs.
When operated as a sack truck the maximum load is 150kg.
The toe plate is foldable and can be lifted to save space when not in use.
The wheels are sturdy and solid.
From £100.56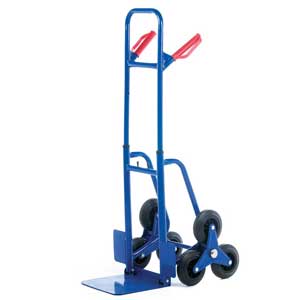 Strong tubular design.
Solid rubber star wheels 'walk' from step to step.
Folds compactly for transit and unfolds quickly for use.
Maximum load capacity of 180kg.
Weighs 19kg.
150 x 40mm rubber plain bearing wheels.
Long fold up footplate is 350mm wide x 410mm long.
Overall measurements of 1143mm high x 555mm wide.
From £170.05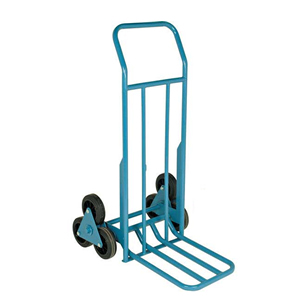 Aluminium frame with straight cross members to assist with transporting small goods.
P-loop handle for user comfortable.
Aluminium toe w x d: 455 x 255mm.
260mm puncture proof tyres on one piece reinforced steel hub for durability.
Ideal for the catering industry.
From £163.97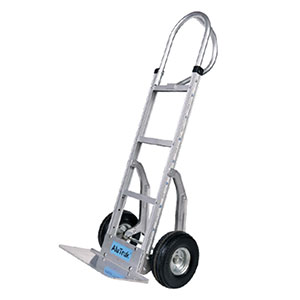 Aluminium framed sack truck with straight cross members and vertical strip to assist with moving smaller items.
Vertical loop, pistol grip handles with knuckle guards to protect your hands though tight door ways and against walls.
Aluminium toe plate w x d: 455 x 225mm.
260mm puncture proof tyres on a one piece reinforced steel hub for durability.
Semi precision wheel bearings offer a smoother ride.
From £153.76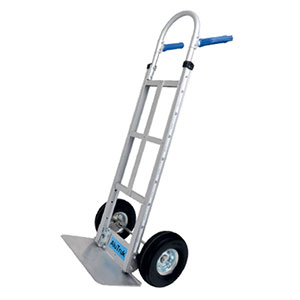 High back sack truck, ideal for lifting larger, taller appliances and white goods.
350kg capacity.
Widely spaced handles for high control.
Footplate 450 x 150mm with non slip cover.
260 x 85mm pneumatic tyred wheels.
Rubber padded frame will not scratch carried load.
Optional carrier handles available.
From £284.05