White Stuff - Double Winner at the Draper Fashion Awards!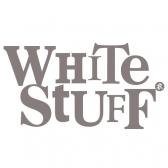 Hi Affiliates!
Happy Friday! White Stuff enjoyed enormous success at this years 'Draper Fashion Awards' and we wanted to share these achievements with you.
Draper Fashion Awards
White Stuff was one of two retailers to scoop two awards at the Draper Fashion Awards in London last night. They beat off competition from John Lewis and New Look to win Best Shopper Experience and UK newcomer Forever 21 and Monsoon for Best New Store.
The Best Shopper Experience award entry focused on White Stuff's deep understanding of their customer and how the brand communicates their values. The entry provided details about White Stuff's most successful initiatives from the last 12 months, including customer bake-offs, book clubs and summer picnics and revealed why White Stuff's unique customer service sets it apart from its competitons.
The Best New Store award entry was for White Stuff's Edinburgh 'Emporium' which at over 6,500sft, opened in November 2010 as the retailers' biggest shop. The entry detailed how White Stuff identified a gap in the market for the emporium and the excellent customer service it provides. It also revealed why the emporium is set apart from its competitors, bringing theatre and drama to the high street.
The accolades follow a successful year of increased profits and rapid growth for White Stuff despite the challenging trading conditions. White Stuff continues in its growth and expansion plans; with the opening of three UK shops so far this year and the opening of their first international shop in Copenhagen this month. The brand has invested £12m in new shops and infrastructure - including new concept 'Emporiums' in Edinburgh and Nottingham, a new DC in Leicester and a new end-to-end IT system across the business.
White Stuff also improved their ranking in the Times Top 100 Best Companies to Work For 2011 and featured as one of Britain's fastest-growing private companies in the 2011 Profit Track 100 for the second year in a row.
The brand's charity, The White Stuff Foundation, was created in 2010 and continues to live at the heart of everything the company stands for. Last year £265k was raised for the Foundation through donations, customer events and a series of fundraising initiatives by shop teams and head office.
Thank you for all your hard work in helping to contribute to the growing success of the White Stuff brand and may these successes long continue!
All the best,
Aimee Cook
Account Manager
email.aimee.cook@affiliatewindow.com
msn. aimee_cookie@hotmail.com