WeWantAnyCar launches their affiliate program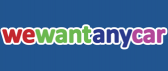 We're pleased to announce the launch of the WeWantAnyCar affiliate program on Affiliate Window. You can sign up to the program here: http://ui.awin.com/merchant-profile/4455
Who are WeWantAnyCar?
We Want Any Car are one of the UK's leading online car buyers, we really do want any car, so whether a car is 2 months or 2 decades old, we can make a firm offer to buy the car.
We Want Any Car are here for you if you've decided to sell your car quickly and simply. We'll provide an accurate car valuation based on the current market value.
We save car owners from the time and hassle it usually takes to sell their car. We understand how frustrating selling a car can be, which is why we value your car for free in a few simple steps, and once you're happy with our valuation, we'll buy it off you - it's as simple as that.
Why join the WeWantAny Car affiliate program?
Our program offers a very competitive £50 commission rate per purchase, with a range of creative for you to choose including a valuation tool that you can include on your own website.
(Full Terms and Conditions can be found here - http://ui.awin.com/merchant-profile/4455)
Launch Promotion
Win a small and sleak iPod NANO.
In addition to the great commission rate per purchase we will be awarding an iPad Nano to the affiliate with the most purchases in the month of August. Good Luck!
http://store.apple.com/uk/browse/home/shop_ipod/family/ipod_nano/select