Welcome to our new Affiliate Manager!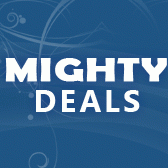 With our sights set on strengthening current and prospective bonds with affiliate partners, Mighty Deals are pleased to welcome Dylan Baxendale on board as Affiliate Manager.
Drawing upon almost 7 years of experience across various industries including travel, entertainment, finance, insurance and mobile, Dylan will be concentrating his expertise on building long term direct affiliate relationships in addition to working with affiliate partners to increase short, medium and long term sales growth.
In addition to these encouraging developments Dylan will be upgrading and updating our affiliate marketing tools as well as working with supply and sales teams to secure the best available products and deals. This is a progressive step towards achieving the best possible relationships with affiliates old and new.
If you would like to contact Dylan regarding any of the points above, you can contact him directly on 01483 412 994 or at dylan.baxendale@moneyexpert.com
If you're not an affiliate already, we'd love to have you on-board. You can sign up here: https://ui.awin.com/merchant-profile/4264
Tags: affiliate, discount, discount code, Manager, New, offer