---
This Weeks Bestsellers From Serenata Flowers
Flower prices go up and down; as a large buyer of flower Serenata Flowers can offer you some bargain prices.
Don't forget the code gf5ReDD32 for  5% off all purchases
Ancient suns of gold and amber create a tropical ambiance for this intense floral display of colour and vibrancy.
Was £29.99
Now £19.99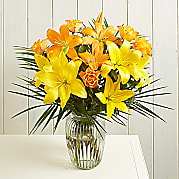 Bring all the fun of the fair into any home with this glorious bouquet filled with wonderful autumn colours capturing the essence of the season!
Was £24.99
Now £19.99

The relaxing serenity of pure white blooms create a glorious sense of peace. The delicate fragrances of Freesia, luxury Roses, Lisianthus, Oriental Lily and Waxflower create an ambience that even the UN would be proud of.
Was £44.99
Now £34.99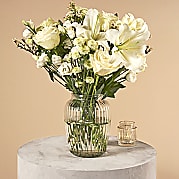 Take a moonlight stroll down twilit lanes while silvery starlight dances on lavender Freesia and the petals of white roses.
Was £24.99
Now £19.99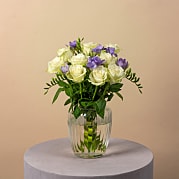 Stunning bouquet with contemporary pink zantedeschia blooms, classic white roses and exotic foliage.
Was £29.99
Now £24.99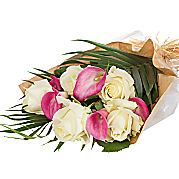 Say those three words she's been waiting to hear: Dozen. Red. Roses. The classic romantic gesture will make your intentions clear.
Was £29.99
Now £19.99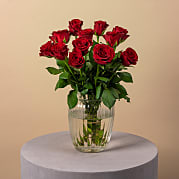 Is there a recipe for the perfect smile? We think our researchers have come pretty close: take a handful of precious pink gerbera daisies, stir in a dash of alstromeria blooms, add a sprinkling of daisy and finish with a swirl of roses.
Was £39.99
Now £29.99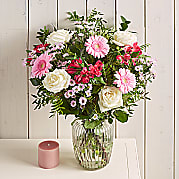 Innocent white blooms represent a love so pure that it burns like white fire in the soul.
Was £39.99
Now £34.99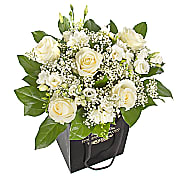 Classic vintage colours combine in this spectacular bouquet, with wonderfully scented Freesias, cheerful Germini, the classic beauty of Roses and Leucadendron foliage. Simply stunning.
Our Price £34.99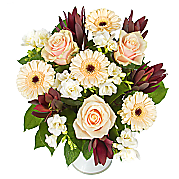 This delightful bouquet is a wonderful collection of graceful flowers and delicate scents.
Was £39.99
Now £34.99