Weekly Etihad Newsletter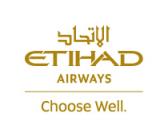 Hello!
Welcome to the latest Etihad Airways Affiliate Newsletter. We've filled this week's edition with lots of fantastic news including great prices to our brand new destinations!
Please note that we would love to hear from you around increased exposure with your site for any of the below deals. Get in touch to discuss further!
This week's highlights:
Top UK deals to promote
UAE November Super Sale
Etihad Airways re-branding
E-Box Inflight Entertainment
Guests can take advantage of fantastic fares in Economy & Business Class from London, Manchester & Edinburgh to some of Etihad's most popular destination. Offer valid until 30th November 2014.
Economy
Manchester – Bangkok from £506
London – Ho Chi Minh from £527
Manchester – Kuala Lumpur from £545
Business
Bangkok – Manchester from £2005
Edinburgh – Ho Chi Minh from £1853
London – Kuala Lumpur from £1975
Find all other UK deals here.
On November 13th 2014, Etihad Airways announced a major partnership with MLS newcomers New York City FC. This partnership will mark Etihad's first sponsorship of a professional team in the United States. As the Club's primary partner, the Etihad logo will take place on NYCFC's home and away kits giving the brand national exposure during all matches.
New York City FC add to Etihad's already impressive sponsorship portfolio alongside the likes of Manchester City FC, Melbourne City FC, Al Ain FC and the Formula 1 Abu Dhabi Grand Prix.
Find out more about all of Etihad Airways sponsorship partners here.
Etihad Airways has presented the England Cricket team with personal Etihad Guest Gold Cards, giving the players exclusive benefits and rewards from the airlines award-winning loyalty program.
The Etihad Guest Gold Card has many benefits including 50% Extra Guest Miles on every flight, priority check-in and boarding, Chaffer Service and many more.
Find out about all the benefits of the Etihad Guest Gold Card here.
UK: http://www.etihad.com/en-gb/deals/promotions-main/
USA: http://www.etihad.com/en-us/deals/promotions-main/
UAE: http://www.etihad.com/en-ae/deals/promotions-main/
Australia: http://www.etihad.com/en-au/deals/promotions-main/
Germany: http://www.etihad.com/en-de/deals/promotions-main/
India: http://www.etihad.com/en-in/deals/promotions-main/
France: http://www.etihad.com/en-fr/deals/promotions-main/
Italy: http://www.etihad.com/en-it/deals/promotions-main/
Russia: http://www.etihad.com/en-ru/deals/promotions-main/
Netherlands: http://www.etihad.com/en-nl/deals/promotions-main/
Should you have any questions about the highlights this week or any feedback as to what updates would be relevant for you to receive on a weekly basis, please get in touch with myself or the Etihad Airways Affiliate Team via email, craig.thomson@digitaslbi.com. Alternatively, we are happy to pick up the phone with you to discuss any aspect of the campaign.
Thank you for your hard work on the program.
The Etihad Airways Affiliate Team