Wallis: Secret Sale For 2 Days Only!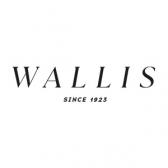 Hi Affiliates,
Sssh Secret Sale…
Up to 50% off EVERYTHING including sale
Online Exclusive – 2 Days only
A number of new banners to help promote this offer are now available! To find them in Darwin, hover over Links & Tools and click Banners & Links.
Examples:
250x250:

200x200:

468x60:

Any questions, please get in touch at: wallis@affiliatewindow.com
Kind regards,
The Wallis Affiliate Team
wallis@affiliatewindow.com