Wallis: NEW AFFILIATE INCENTIVE!!!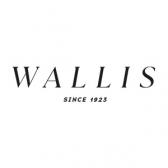 Attention: Affiliates NOT yet on the Wallis programme!!
Wallis are going to be offering new affiliates a bonus incentive.
For all affiliates that sign up the Wallis programme, and generate one valid sale within their first month of joining, Wallis will offer you a £5 bonus.
Please note, vouchercode, cashback and loyalty partners are excluded from this incentive.
Here is how to get your bonus:
1. Sign up to the Wallis affiliate programme here
2. Start promoting us!
3. Once you have generated your first sale for Wallis within one month of joining, send an email to wallis@affiliatewindow.com with the below details:
• Affiliate ID
• URL
• A Link to your Wallis promotional post
• Date of Sale
4. A bonus will then be added in to your account, as soon as this is checked by the Wallis Affiliate Account Manager.
We look forward to working with you, and please don't forget to drop us an email once you've made a sale
Many thanks,
The Wallis Affiliate Team
Tags: affiliate incentive, bonus, fashion, new affiliates, wallis, womenswear