Viva La Diva: New Banners Available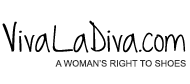 Dear Affiliates,
Welcome to the Viva La Diva affiliate newsletter.
With the party season upon us we thought it was time for a creative refresh!
There is a full set of brand new Viva La Diva banners available via the Affiliate Window interface now, showing off some of our best seasonal stock.
Here's a quick preview of how they are looking…
468 x 60
300 x 250
Sizes available now are…
• 100 x100
• 120 x 60
• 120 x 600
• 234 x 60
• 300 x 250
• 468 x 60
• 88 x 31
If you require a different size than the ones listed above please don't hesitate to get in touch. We will do our best to get one made up for you ASAP and this will also help us to better accommodate the needs of our affiliates in future so we would really appreciate it!
As always if we can do anything to help please don't hesitate to get in touch.
Best regards,
The Viva La Diva Affiliate Team