Village Hotels -Summer package deals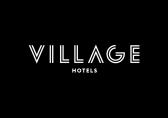 Hi publishers,
Hope you are all well.
Today Village Hotel launch their new discounted packages for the summer season. Village Hotels are offering, not 1 but 2 discounted packages :
15% off 1 night stays from £35
25% off 2 night stays from £69
The package also comes with a free cocktail and kids eat free & receive a Village lanyard pass for access to garden games and free ice cream & soft drinks.
Up to 50% off Club Room upgrades at £10 per room
Booking Window 15th May - 29th September
Stay dates are for between 20th May - 29th September
Offer available at any of Village's 30 locations
Village Hotels are offering 6% commission on all valid bookings made and for a limited time are offering 10% commission for valid bookings made at  Farnborough, Newcastle, Leeds North, Manchester Bury, Nottingham, Birmingham Walsall, Hull, Birmingham Dudley, Solihull, Coventry, Aberdeen, Bournemouth, Bristol & Portsmouth.
If you wish to promote these offers, please get in touch with the team at affiliates@eqtr.com with your campaign suggestions and we can help get you set up with creative and copy.
Please use the below links for your campaigns, and remember to change !!!id!!! to your Awin ID.
2 night stays
https://www.awin1.com/cread.php?awinmid=6537&awinaffid=!!!id!!!&p=https%3A%2F%2Fwww.village-hotels.co.uk%2Foffers%2Faccommodation%2F25-off-a-2-night-stay%2F
1 night stay
https://www.awin1.com/cread.php?awinmid=6537&awinaffid=!!!id!!!&p=https%3A%2F%2Fwww.village-hotels.co.uk%2Foffers%2Faccommodation%2F15-off-a-1-night-stay%2F
cheers,
Ross Bowers
Affilaite Manager 
ross.bowers@eqtr.com
Tags: 10% Commission, 8% Commission, accomodation, village hotels