Vapouriz - 5 Premium E-liquids for only £9.99 (usually £24.95)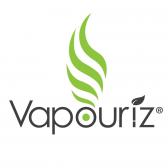 Vapouriz E Liquid Mystery Case!
Do you like mystery, intrigue and trying new things? Then this offer is for you!
If you are feeling daring select the strength required and we'll pack up 5 exciting flavours to create a limited edition mystery selection pack! Hurry- This deal won't be around for long....
As Forrest Gump would say...You never know what you're gonna get!
T's & C's: Offer valid between 00.01 Tuesday 21st July - 23.59 2nd Aug 2015. No mix & match or substitutions. Some flavours may be in packaging that has been since updated. All e-liquids are from our premium Vapouriz range and are sold still within their shelf life. Some flavours are limited edition so maybe become unavailable. Items will not arrive in a box. We reserve the right to withdraw this offer early.
Tags: discount, ecig, ecig uk, offer, offers, promotion, savings, vape, vaping