ValueMyStuff is now LIVE on Affiliate Window!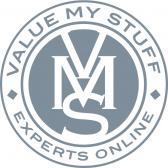 ValueMyStuff welcomes you to experience expertise at your fingertips!
We're delighted to announce the launch of the ValueMyStuff affiliate program on Affiliate Window. Sign up to the program here to take part in the online art revolution.
What is ValueMyStuff?
ValueMyStuff is a young and innovative online valuation company with a team of over sixty experienced and renowned fine art, antiques and collectables specialists who have formerly worked at major international auction houses such as Sotheby's, Christie's, Phillips, and Bonhams. Valuing over 40 collecting fields, Value My Stuff has been called the "The Antiques Roadshow Online". Our customers purchase credits for valuations of their art, antique and collectables. We guarantee a 48 hour turnaround time for valuation reports and our prices are the most affordable on the web!
People seek online valuations from us for a number of reasons -  to sell their item at auction, request a valuation for inheritance, need to provide an accurate value for an insurance company, report values for tax purposes, record of value for charitable donation, artist, maker, or manufacturer identification, looking to buy and want to ensure they receive a fair price, wish to learn more about the history or purpose of their item, or simply want to know whether the unique item has any value.
Why join the program?
Our product is applicable for every type of customer. Man/Woman, young/old, affluent/mid range income, traveller/homebody, mover/never moved, antiques lover/never seen an antique in their life, online shopper/online voyeur, city dweller/country bound.  Our demographics range from the ages of 20 through 75 – aka most everyone using the web.
We value the affiliate channel highly and offer excellent commission rates, incentives, and offers throughout the year and keep you up to date with regular, monthly commissions.
ValueMyStuff pays commission as follows:
10% of purchase of 10 Valuations
8% of purchase on 3 Valuations
6% of purchase of Express 24HR Valuation
5% on purchase of 1 Valuation.
We look forward to speaking to you soon!
Our founder Patrick van der Vorst explains it all:
See our terms & conditions here.
Contact us at: megan@valuemystuff.com