---
Valentine's Day With Hampergifts.co.uk
This week, Hampergifts.co.uk are delighted to bring you the range of Valentine's Day Hampers.
A range of hampers containing every romantic ingredient in the book! Choose from a Champagne Breakfast gift, chocolate filled gift boxes, a gorgeous Pamper Hamper, wonderfully scented bath gifts or a classic toy and Cava hamper.
See our selection below, or take a look here for the full available range.
Don't forget, you still have until 31st January 2016 to use voucher code JAN5HAMP to receive 5% off your order.
This fabulous gift includes everything you need for a winter's night in, or a lazy Sunday morning pamper session. A beautiful, re-usable bathtub tidy is packed with bathtime products and will sit smartly in any bathroom. The body butter, shower gel, bath salt, soap and body lotion all feature a fresh orange blossom fragrance, and are packed with Almond Oil, Evening Primrose Oil and Cocoa Butter.
Our Price £21.99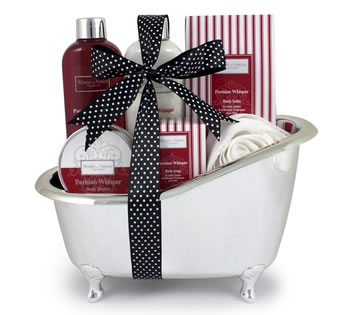 Treat someone to breakfast in bed in style! This charming breakfast hamper is crammed with treats including tea, fresh ground coffee, a pair of marmalades - including tangy grapefruit & lime and a medal winning whisky marmalade - a deliciously sweet plum, pear & apple jam plus four moist, mouth-watering muffins!

Our Price £22.50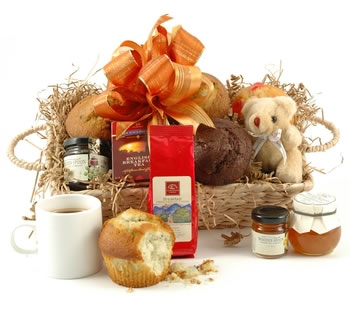 Sparkling wine... Cuddly toy... Chocolates... this one ticks all the right boxes for a charming romantic gift. A miniature bottle of strawberry-pink Cava stars in this delightful little hamper. And the adorable 20cm puppy dog says it all really! And to top it all off the Romantic Surprise arrives beautifully gift wrapped with ribbon.
Our Price £32.00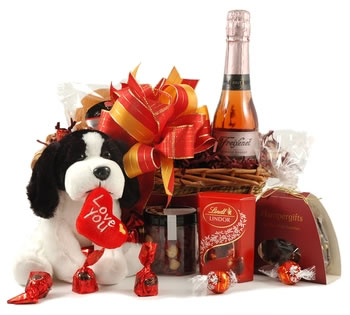 A true pamper hamper filled with everything you need to indulge. The rich blend of plum and cream makes this an absolute treat. This generous collection of lotions and potions, accompanied by an array of bathing accessories and a superb wooden bowl puts this gift on the very top of any gift list.

Our Price £37.50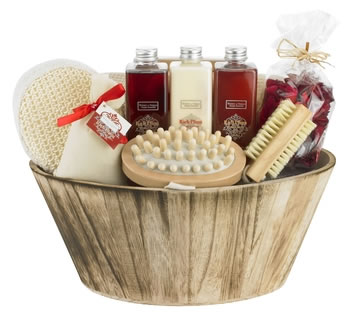 At the heart of our best selling wine hamper is a delicious medal winning Chilean Merlot. This elegantly gift wrapped hamper also includes some carefully picked Belgian chocolates, shortbread, chocolate coated honeycomb and other delights which go beautifully with the wine. The Ruby is the perfect gift for a friend or colleague who enjoy a nice glass.

Our Price £37.99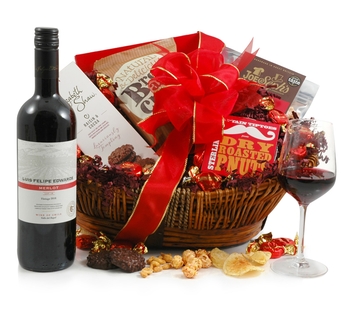 Relax, run a hot bath and let our luxurious Bath themed tower do the rest. This exclusive treat is jam packed with a fantastic selection of scented bath products for the ultimate pampering session. The white and salmon-pink gift boxes are re-usable and make perfect keepsake or storage boxes.

Our Price £37.50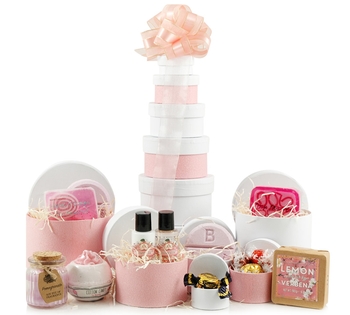 A stunningly presented, pink-hued rosé from Château de Beaulieu arrives with an adorably cuddly, soft and floppy-eared 'love you' puppy. Open the metallic red gift box and you'll also discover a mouth watering selection of Belgian & Swiss chocolates - just perfect for the one you love.

Our Price £45.00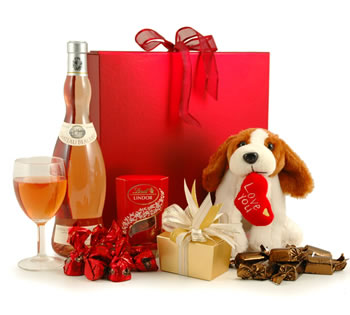 Demolishing this elaborate construction will be a special treat! Each of the striking, reusable burgundy & silver boxes is filled to the brim with indulgences like Honey Roasted Nuts, Hazelnut Praline Pieces, Sugared Almonds and more. This stylish gift is beautifully finished with a hand-tied ribbon - ideal for chocoholics, chocolate lovers, and people who just like a chocolate surprise now and again.
Was £32.50
Now £24.00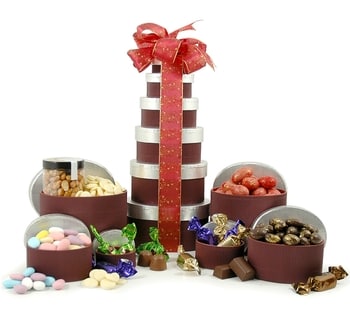 This outstanding champagne breakfast hamper gives new meaning to breakfast in bed. A beautiful half-bottle of Louis Dornier Champagne is served alongside five American-style muffins in three mouth-watering flavours. For something savoury go for the delectable wild boar pâté, an ale-infused wholegrain mustard or spread the 3-fruit marmalade on toast.

Our Price £57.99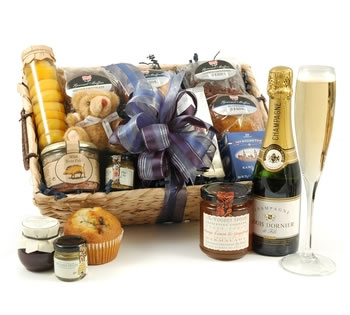 If you're stuck for ideas for that special someone, look no further than our Giant Teddy and Champagne Gift. This gorgeous hamper has been lovingly put together to include premium products for any romantic occasion. It's the perfect way to lavish your loved one.

Our Price £59.95