---
Valentines Day - Top 25 Gift Ideas at Chemist Direct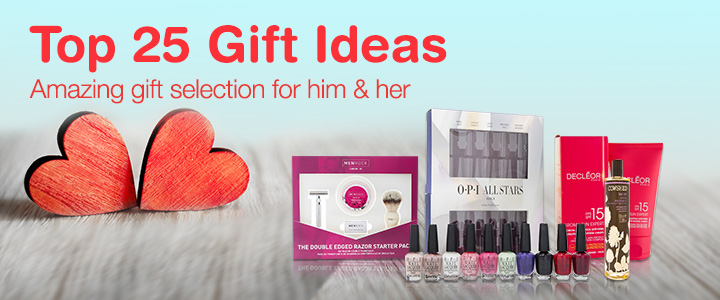 Make shopping for your loved one easier this Valentines Day! Shop our Top 25 Gift Ideas at Chemist Direct.
This award-winning day cream improves the hydration and moisture levels of the skin. It reduces fine lines and wrinkles, increases skin firmness and elasticity, with results visible in 14 days. Suitable for all skin types.
Our price
£66.45

This redefining cream helps firm and smooth the skin, containing poppy extract to reduce the appearance of curves, caffeine for slimming and Hibiscus flower extract to moisturise the skin.
Our price
£36.99

This Gift Set includes a cream designed to help smooth and restore the skin to its former glory, reducing fine lines and wrinkles and refining the complexion. The set also includes an eye cream designed to restore the delicate area around the eye.
Our price
£49.99

This shaving kit contains a shaving cream and a shaving brush. The shaving cream provides a rich lather, ensuring a smooth and close shave. It's perfumed with Sandalwood, making for a woody, spiced start of the day.
Our price
£20.43

Clarins anti-wrinkle serum with Nopal Flower extract stimulate the skin's natural exfoliation process, helping to speed cellular renewal for a toned, glowing complexion.
Our price
£44.99


As every woman has specific needs, Clarins provides a range of products suited to all skin types. This gift set gives you 3 great products for firmer, smoother, silky soft skin.
Our price
£29.99

Cowshed Chamomile Refreshing Toner contains organic aloe vera and rose otta extract to remove surface impurities – for softer, radiant skin.
Our price
£20.00

Lazy Cow Soothing Bath & Body Oil softens and hydrates dry and tired skin, leaving it silky smooth to the touch. It's made from a peaceful blend of chamomile, jasmine and sandalwood essential oils to deeply relax and pacify your mind.
Our price
£20.00

This daily moisturiser from Cowshed is enriched with essential oils of geranium and chamomile and extract of quinoa – a superfood packed with protein, vitamins, minerals and fatty acids to fight off free radicals and increase moisture levels.
Our price
£30.00

This medium protection sun cream has a super fresh fragrance that's sure to remind you of summer. The effective cream helps boost the skin's natural defenses and reduces skin reactions caused by the sun.
Our price
£22.99