---
Valentines Day At Hampergifts.co.uk
A range of Valentines Hampers containing every romantic ingredient in the book. Choose from a Champagne Breakfast gift, chocolate filled gift boxes, a gorgeous Pamper Hamper, wonderfully scented bath gifts or a classic cuddly toy & cava hamper.
Save 5% On All orders with code HAMP5JAN until 31st January!
Treat someone to breakfast in bed in style! This charming breakfast hamper is crammed with treats including tea, fresh ground coffee, a pair of marmalades - including tangy grapefruit & lime and a medal winning whisky marmalade - a deliciously sweet plum, pear & apple jam plus four moist, mouth-watering muffins!
Our Price £22.50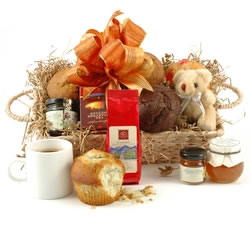 This little tower packs a lot of treats. Featuring creamy caramels, crumbly fudge and of course an abundance of chocolates - all waiting to be discovered inside three heart-shaped gift boxes.
Our Price £27.99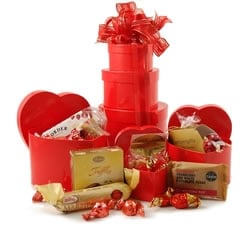 With a miniature bottle of strawberry-pink Cava, a 20cm cuddly puppy and a selection of chocolate treats, this one ticks all the right boxes for a charming romantic gift.
Our Price £32.00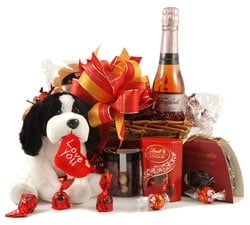 Demolishing this elaborate construction will be a special treat! Each of the striking, reusable burgundy & silver boxes is filled to the brim with indulgences like Honey Roasted Nuts, Hazelnut Praline Pieces, Sugared Almonds and more.
Our Price £29.95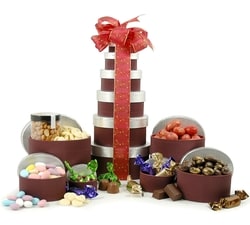 A true pamper hamper filled with everything you need to indulge. The rich blend of plum and cream makes this an absolute treat.
Our Price £47.00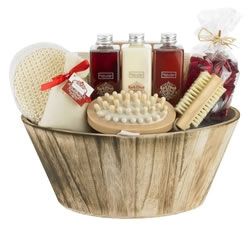 At the heart of our best selling wine hamper is a delicious medal winning Chilean Merlot. This elegantly gift wrapped hamper also includes some carefully picked Belgian chocolates, shortbread, chocolate coated honeycomb and other delights which go beautifully with the wine.
Our Price £37.99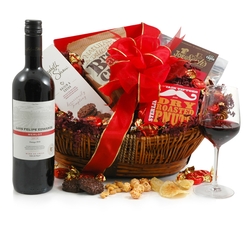 Relax, run a hot bath and let our luxurious Bath themed tower do the rest. This exclusive treat is jam packed with a fantastic selection of scented bath products for the ultimate pampering session.
Our Price £40.00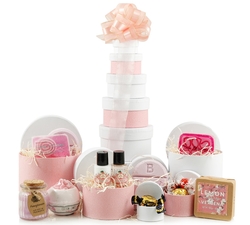 A stunningly presented, pink-hued rosé from Château de Beaulieu arrives with an adorably cuddly, soft and floppy-eared 'love you' puppy.
Our Price £45.00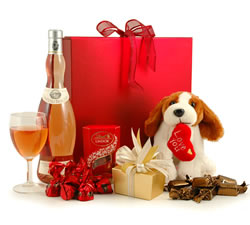 Serve the half-bottle of Louis Dornier Champagne alongside five American-style muffins in three mouth-watering flavours.
Our Price £57.99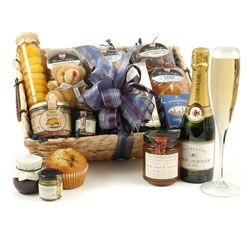 If you're stuck for ideas for that special someone, look no further than our Giant Teddy and Champagne Gift.
Our Price £59.95