---
Useful Forklift Attachments Available at ESE Direct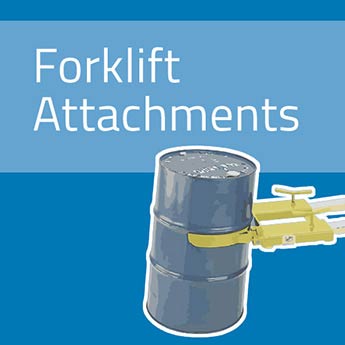 Useful Forklift Attachments available at ESE Direct.
Click here to find out more.
The clamp goes around the drum just below the top of the two rolling hoops – the bands around the drum that stick out and are designed for rolling it across the floor – and closes around the drum.
The 210 Litre Drum Clamp opens and shuts automatically as the drum is raised and lowered, reducing the chances of operator error and the drum being dropped.
The clamp fits over a standard-sized forklift truck fork – 170mm x 50mm – and comes in orange or yellow.
There is a certificate of testing that is supplied with the drum clamp to confirm that the product has been fully tested.
Fork centres: 380mm.
From £318.29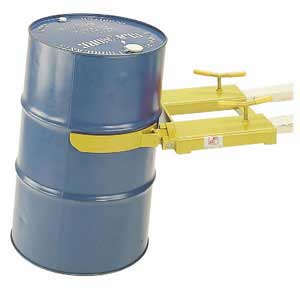 Automatically engage / disengage without driver having to leave his seat.
The heavier the drum the tighter the grip.
Designed for lifting 210 litre drums.
Max fork size: 178 x 58mm.
Choose code E377929 for use with 210 litre steel drums and E384333 for 210 litre plastic drums.
From £246.05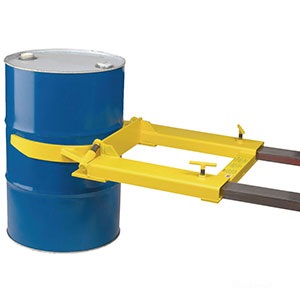 3 leg drum grab for maximum security and control while lifting steel drums.
Heavy duty steel construction.
For use with 205ltr plastic or steel drums.
Can be used with overhead hoists to securely lift and move drums
360kg capacity.
Do not use with other attachments.
From £51.68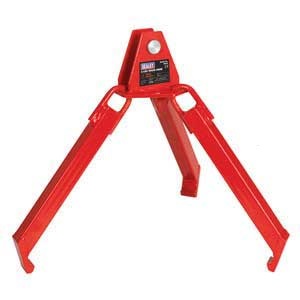 Lifting hoist with forklift slots.
Heavy duty steel construction for additional strength.
Easily converts forklifts into mobile cranes whenever needed.
Fitting hook supplied as standard for use with multiple attachments.
Secures firmly and safely to forklift forks using 2 heavy duty tommy bar screws.
1000kg SWL capacity.
Fork opening pitch - 250mm.
From £143.31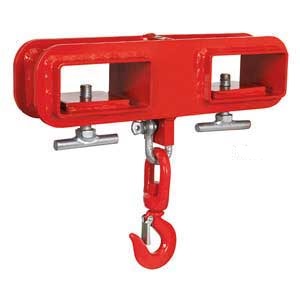 This Single Drum Claw forklift attachment fits neatly over the forks of the truck and is fastened with two clamping screws, which are tightened by hand. There are T-bar hand screws to make this task simple.
The jaws of the clamp are spring-loaded and grip onto the rim of a 210-litre tight headed drum. A band supports the side of the drum for a safe and stable carrying position that holds the drum upright, so it is also ideal for moving open drums if the contents mean that it is safe to do so.
The pocket for the forks is 160mm x 40mm, and the fork centres are 380mm.
This single drum claw attachment comes in either yellow or orange.
A test certificate is supplied with the product to bring peace of mind to the user.
From £395.70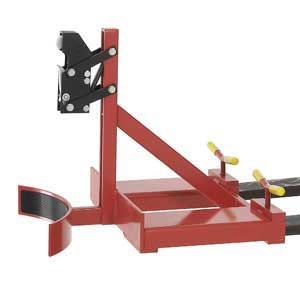 3 metre control chain can be locked to secure the drum in any position during transit & dispensing.
For use with 210 litre steel drums.
Model DLV02Z has a geared chain control.
One person operation.
CE Marked & plated.
Max load 350kg.
From £276.45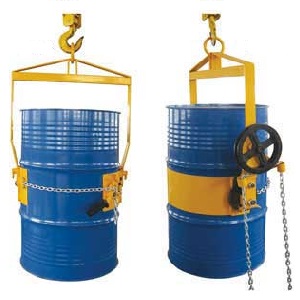 Flexible over 90 degrees.
Suitable for all makes of counterbalance and reach trucks.
Good chemical resistance.
Temperature range: 40°C to 100°C.
Material: Copolymer 70° shore A.
From £71.25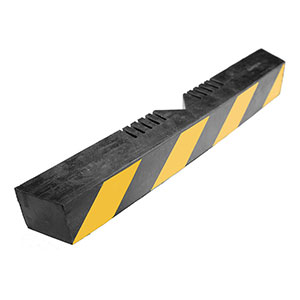 The Drum Rotator forklift attachment is secured to the forklift forks with T-bar clamping screws, which ensures that it will not slip off or move about when it is in use.
The drum is held onto the rotating attachment with a 200mm-wide steel girdle harness. This harness has two ratchet clamps that can be easily tightened and do not slip when the drum is rotated through 360 degrees.
The rotator attachment is supplied with a certificate of testing so that the operator knows it has been fully checked for any defects.
From £1019.61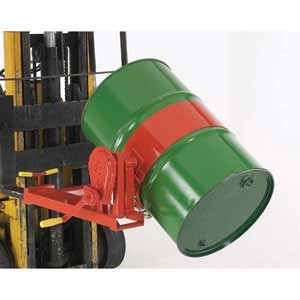 Lift open, closed and loaded steel drums around with the aid of this drum grab.
350kg carrying capacity.
Suitable for use with 205ltr drums.
Heavy duty steel construction.
Pivot pin allows each drum hand to be moved allowing the operator to easily fit the hands around the diameter of the drum.
Do not use on drums with removable lids.
From £72.72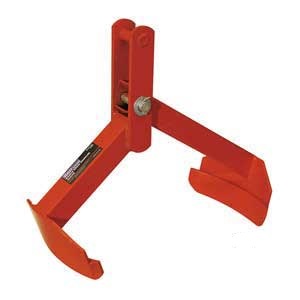 Mechanical forklift drum clamp attachment.
For use with 205ltr drums.
Maximum capacity of 680kg.
Fork opening - 623mm.
Inclusion of a simply mechanical feature enables drums to be repositioned without the forklift operator leaving his / her driving position.
Tightens to forklift arms using hand screws.
Heavy duty steel construction.
Only for use with drums that have a fixed / permanent top.
From £262.58