Up to 70% Off in the Winter Sale at Heathcote & Ivory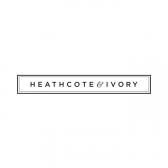 The Winter Sale is now on at Heathcote & Ivory with up to 70% off many delectable products!
If we had to pick, below are some highlights:
£10 off Lola Rose Guest Soap Chronicles Assorted Soaps
Special Price: £6.00
£5 off / 50% off Vintage Mimosa & Pomegranate Soothing Bath Caviar
Special Price: £5.00
£10 off Dandelion Dreams Votive Scented Candles
Special Price: £5.00
£5 off Cath Kidston Star Bath and Body Selection Body Lotion and Shower Gel
Special Price: £10.00
There's much, much more on site now. Hurry while stock lasts. Happy New Year, and happy shopping!
About Heathcote & Ivory
Heathcote & Ivory is a quintessentially English toiletries and home fragrance gift company. A recognised high street brand, you'll find Heathcote & Ivory products in major high street outlets across the country. Our average order value is £29 and we operate a sliding scale of commission from 5% to 7% - the more sales you help us achieve the more commission you will be entitled to.
Tags: Heathcote & Ivory, january sale, sale, Sales, toiletries, winter sale