Up To 60% Off Facial Care at Chemist Direct
---
Up To 60% Off Facial Care at Chemist Direct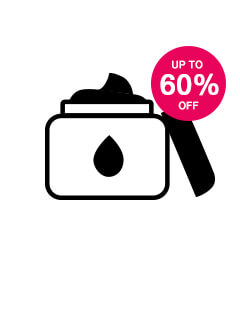 Save up to 60% on Facial Care at Chemist Direct.
Offer expires - Midnight 29.02.20.
Click here to find out more.
Refine your skin with Indeed Labs Retinol Reface Retinol Skin Resurfacer, a cream enriched with not one but three forms of Retinol, to target signs of aging and achieve smoother, hydrated, younger looking skin.
Our Price £18.99

Bioré Deep Cleansing Charcoal Pore Strips instantly unclog your pores and draw out excess oil, for smooth and healthy looking skin.
Was £8.99 Now £4.50

The views expressed are those of our customers. If you require advice on a condition or treatment, please contact your doctor or pharmacist. For any questions regarding the products, please contact us. Please note: due to advertising regulations, not all product reviews can be displayed. Please be advised that people respond to products differently and you should always read the label.
Our Price £16.99

Eucerin Anti-Age Hyaluron - Filler CC Cream Light 50ml plumps up the appearance of even the deepest wrinkles from the inside, unifying the skin complexion.
Our Price £17.32

Forget Your Age Oil - The anti-wrinkle moisturising oil by Biomed Organics gives the appearance of filling in fine lines and wrinkles, it smooths the skins surface and hydrates the skin.
Was £25.00 Now £10.00

Indeed Labs Snoxin 2 Facial Line Fighter 30ml is a super concentrated serum to improve fine lines and wrinkles.
Our Price £24.99

Indeed Labs Vitamin C24 Cream 30ml is a combination of a serum and moisturizer with high quantities of Vitamin C to combat ageing.
Our Price £24.99

Safe for contact wearers as well as those with sensitive skin, Klorane Sensitive eye makeup remover lotion contains French cornflower which has natural anti-inflammatory properties to help sooth skin.
Was £6.49 Now £5.19

Dr.PAWPAW Tinted Ultimate Red Balm uses the same great formula of the Original Balm but now contains an on trend Red shade so that your hero balm adds a little colour to your lips, cheeks and life.
Was £3.95 Now £2.77