---
Up To 50% Off Travel At Chemist Direct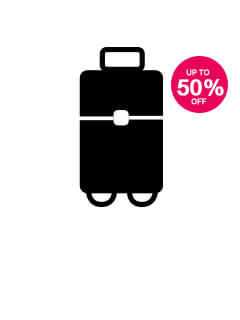 Save Up To 50% on Travel Products at Chemist Direct.
Hurry offer expires - Midnight 31.01.20.
Click here to find out more.
Garnier Ambre Solaire After Sun Tan Maintainer soothes and cools sun exposed skin whilst also helping to maintain your tan.
Was £6.29 Now £3.15

Lightweight SPF protection for the lips, suitable for use during summer and winter.
Was £2.49 Now £1.25

Lightweight SPF protection for the face, suitable for use under makeup.
Was £2.49 Now £1.25

Calypso Kids Coloured Sun Protection Lotion provides broad-spectrum UV protection to protect and care for young delicate skin. Its blue colour will disappear when rubbed into the skin, ensuring even coverage.
Was £1.95 Now £0.98

Garnier Ambre Solaire Protection Lotion SPF30 is a small and handy high protection sun cream designed for adults.
Was £3.49 Now £1.75

Protect yourself from mosquitoes, midges and other biting insects with Jungle Formula.
Was £5.99 Now £3.00

Malibu Lotion with Miracle Tan SPF30 150ml provides a high protection sun lotion along with Miracle Tan that helps accelerate the tanning process and enliven the skin complexion for a radiant, natural look all year around.
Was £5.99 Now £3.00

Numark Family Strength Insect Repellent Spray is a Deet Free repellent for all the family.
Was £3.39 Now £1.70

Solero Moisturising Sun Spray SPF30 offers triple protection, from UVA, UVB and IR-A rays. The spray is water resistant, non-greasy and easily absorbed, while also moisturising the skin.
Was £7.00 Now £3.50

Malibu Continuous Lotion SPF30 Aerosol Spray provides high protection for skin that is sensitive to the sun and burns easily. Malibu Aerosol Spray formula is enriched with Vitamin E and Pro-Vitamin B5 that restore the natural moisture levels of the skin, leaving it with a natural glow and looking healthy.
Was £5.99 Now £3.00