Up To 50% off Pet Care Products at Chemist Direct
---
Up To 50% off Pet Care Products at Chemist Direct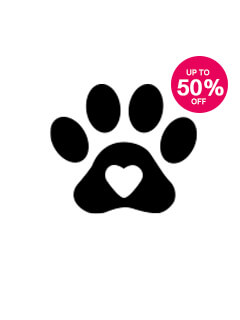 Up To 50% off Pet Care Clearance at Chemist Direct.
Offer expires - Midnight 31.01.20.
Click here to find out more.
Bob Martin Delicious Conditioning Tablets for Cats are a delicious complement to your cat's normal diet, containing rich vitamins essential to help keep them fit and healthy.
Was £3.73 Now £2.80

Pedigree Gravy Bones are tasty crunchy biscuits coated in a delicious gravy that your dog will love.
Was £3.63 Now £1.82

Droncit Spot on Tubes for Cats is an effective tapeworm treatment for cats that can be applied directly to the skin on the back of the neck.
Was £7.99 Now £6.39

FRONTLINE PET CARE Skin Care Gel is designed to help soothe patches of irritated skin in dogs and cats.
Was £4.75 Now £3.56

The Adaptil collar releases dog appeasing pheromones when it is activated by the body heat. It is important that the collar is in constant contact with the dog especially under stressful conditions such as puppy socialization, training, travelling, or loud noises.
Was £22.67 Now £18.14

Bob Martin Flea Tablets Small Dogs under 11kg - An effective and easy to use flea treatment for small dogs.
Our Price £4.79

Formulated to enhance and protect the coat of dogs and cats with white or light-coloured hair. It contains provitamin B5 for long-lasting hydration and Luminescine for a natural brilliance and protection against harsh sunlight.
Was £5.17 Now £3.88

James Wellbeloved Kibble Senior Cat Fish and Rice is a hypoallergenic formula with natural ingredients, vitamins, and minerals. Ideal for senior cats with skin or digestive sensitivities. Suitable for cats over 7 years.
Our Price £10.07

Johnsons Bitch Spray protects bitches in season by discouraging the unwanted attention of dogs.
Our Price £3.38

Discover Naturediet Feel Good Dog Food - Salmon, a steam cooked completely nutritious dog food that is gentle on sensitive tummies, Hypoallergenic and loved by fussy eaters.
Was £15.99 Now £12.79