Up to 50% off Furniture and Home Accessories in dwell's Summer Sale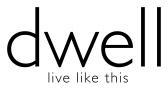 Dwell's Summer Sale is now on, with up to 50% off furniture and home accessories.
Some of our bestselling products have great savings including the Eiffel Chair, Treble Extending Dining Table and our Ankara Corner Sofa.
We are looking to work with quality content sites to promote our sale, if you are interested then please contact the dwell affiliate team to discuss opportunities.
Thanks
Bethan.Callely@geniegoals.co.uk
Rachel.Johnson@geniegoals.co.uk
Tags: discount, discounts, home, offer, offers, promotion, promotions, sale, savings, special offers