Up To 50% Off E45 Products at Chemist Direct
---
Up To 50% Off E45 Products at Chemist Direct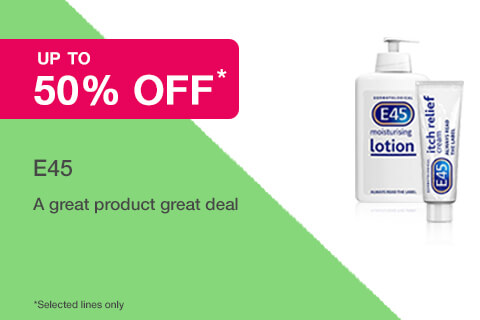 Save up to 50% off E45 Products at Chemist Direct.
Offer expires - Midnight 31.12.19.
Click here to find out more.
E45 Cream Pump is a gentle everyday moisturiser for dry and sensitive skin. It helps keep your skin feeling soft, supple and hydrated.
Was £12.49 Now £8.32

E45 Dry Scalp Shampoo helps to alleviate the effects of an irritated scalp, relieving itching and providing relief.
Was £6.50 Now £4.33

E45 Itch Relief Cream treats itchy, irritated or inflamed skin caused by eczema, dermatitis, pruritus and other dry-skin conditions.
Was £6.99 Now £4.66
E45 Shower Cream gently and effectively cleanses your dry skin, leaving it feeling soft and smooth.
Was £5.49 Now £3.66

E45 Cream is effective in treating and soothing dry, irritated and itchy skin. It's quickly and easily absorbed and works by replacing lost moisture and forming a protective barrier, leaving your skin feeling soft and comfortable again.
Was £4.99 Now £3.33

E45 Emollient Wash Cream is ideal for dry skin conditions such as Eczema and Dermatitis. Containing no soap or detergent, this cream is ideal for everyday use.
Was £5.39 Now £3.59

E45 Moisturising Lotion is the perfect all over body lotion for sensitive skin, leaving you feeling soft, smooth and hydrated.
Was £3.99 Now £2.66

Soothe your eczema with a rich repair cream from E45.
Was £12.99 Now £8.66

E45 Emollient Bath Oil is clinically proven to help soothe and moisturise dry, itchy skin, creating a lasting barrier that protects against moisture loss.
Was £8.65 Now £5.77

E45 Moisturising Lotion helps to soothe and relieve dry and sensitive skin, making it an ideal everyday moisturiser for the whole family.
Was £7.49 Now £4.99