Up to 50% off contemporary Furniture and Accessories at dwell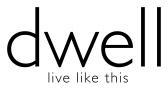 The dwell Summer Sale is still running with further lines added. The offer features up to 50% off selected furniture and accessories including Sofas, Sofa Beds, Coffee Tables, Shelving, TV Units, Office Chairs, Office Storage, Dining Tables and Dining Chairs.
We are looking to partner with quality content partners to promote our sale and/or products. If you are interested in promoting dwell on your site then please contact the dwell affiliate team to discuss opportunities.
Thanks,
The dwell affiliate team
bethan.callely@geniegoals.co.uk
rachel.jones@geniegoals.co.uk
Tags: discount, home, offer, promotion, sale, savings, Summer