---
Up To 50% Off Body Care Products At Chemist Direct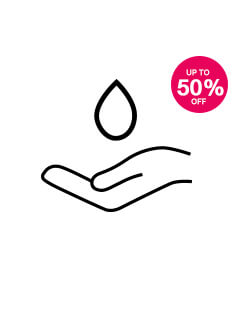 Up to 50% off Body Care Products at Chemist Direct.
Offer expires - Midnight 31.01.20.
Click here to find out more.
Garnier Ultimate Blends Hand Honey Treasures Restoring Cream has been created specifically for those who have very dry hands.
Our Price £2.66

The natural teeth whitening solution from Beverly Hills.
Was £1.29 Now £0.90

Skin-friendly roll on offering 48 hours of dryness and protection.
Was £1.29 Now £1.03

Cutex Nail Polish Remover helps to promote healthy and nourished nails. Botanical oils leave nails nourished and healthy whilst Vitamin E helps to soften and moisturise.
Was £1.49 Now £0.75

Skin-friendly antiperspirant offering 48 hours of dryness and protection.
Was £2.49 Now £1.99

Australian Bodycare Intim Shave has been specially formulated to minimise red spots, ingrown hairs, reduce razor rash and redness that commonly occur after intimate shaving. Using Intim Shave gel takes care of your delicate intimate skin while shaving.
Was £12.45 Now £8.30

Mixa Anti-Dryness Hand Cream is suitable for those who suffer from dry and sensitive skin, leaving your hands soft and nourished.
Was £5.99 Now £4.49

Exfoliate and polish skin with a pampering body scrub.
Was £4.79 Now £3.19

Scientifically developed with natural plant extracts, the unique complex provides effective sweat and odour protection whilst allowing your skin the freedom to breathe. Suitable for all skin, including very sensitive, and all the family.
Was £2.99 Now £2.39

Australian Bodycare Foot Repair has been specially developed for itching, burning and redness between toes.
Was £15.99 Now £10.66