---
Up To 50% Off Baby Products At Chemist Direct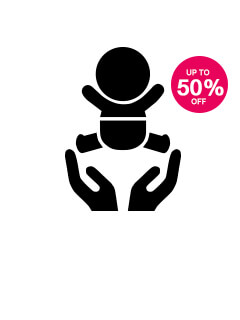 Up to 50% off Baby Products at Chemist Direct.
Hurry offer expires - Midnight 31.01.20.
Click here to find out more.
Get a bath filled with bubbles with this travel sized bubble bath.
Was £1.29 Now £0.65

Mustela Cradle Cap Cream encourages fast elimination of cradle cap and soothes the skin thanks to its patented Avocado-based ingredient of natural origin.
Was £6.80 Now £3.40

Mustela Nourishing Cold Cream is specially formulated for babies and children with dry skin to soften and soothe skin.
Was £6.00 Now £4.80

Dr Brown's Options Baby Bottle is a handy convertible bottle that can be used with or without the vent system, preventing wind-related colic. Wide neck, BPA free, 270ml bottle.
Our Price £5.43

Ella's Kitchen – Beef Stew contains nothing but 100% organic beef,potatoes and vegetables. Suitable for children from 7 months.
Was £1.65 Now £0.83

Kind calendula gently cleanses delicate skin and hair, so everyone has fun at bathtime. To create a perfectly gentle wash that works for babies, we put in a lot of thought.
Our Price £7.50

Dr Brown Vent Cleaning Brushes offer easy cleaning of the vent system & reservoir of the Dr Browns Bottles. These small brushes help keep the vent system clean and hygienic for your baby's feeding.
Was £2.39 Now £1.20

Soothe the pain of breast feeding with this natural balm, developed by midwives to be safe for mum and baby.
Was £16.50 Now £13.20