Up to 30% Off At Gemporia - 'Tis The Season - Shop & Save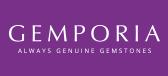 Hello Affiliates! 
We are excited to announce a new promotion that we would love for you to push!
 From the 7th of December until midnight on the 9th of December customers at Gemporia will be able spend and save on the perfect gift using the below codes at the checkout.
For any more information, please contact the Gemporia Affiliate Team.
Thanks!
Benjamin.craig@tggc.com