---
Up To 25% Off Bioglan Products At Chemist Direct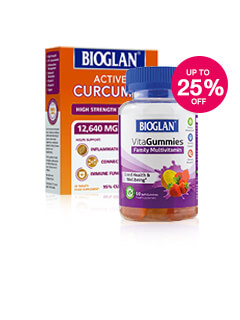 Up to 25% off Bioglan Products at Chemist Direct.
Hurry offer expires - Midnight 12.01.20.
Click here to find out more.
Bioglan Stat-Guard combines essential nutrients that may be reduced by some cholesterol lowering medication - all in a small one-a-day capsule. Stat-Guard contains recommended levels of CoQ10 as well as Zinc, Vitamin E, B1 and Magnesium.
Was £14.99 Now £11.24

Bioglan Biotic Balance Ultimate Flora ' 20 Billion Live Bacteria ' 4 Strains ' Fridge Free Technology ' One-a-Day capsule Bioglan Biotic Balance Ultimate Flora are high strength capsules with 20 billion live bacteria from 4 scientifically studied strains.
Was £16.49 Now £12.37

Bioglan Beauty Collagen Effervescent are the secret to healthy aging. As we age, our skin's natural Collagen production slows down, revealing the first visible signs of ageing.
Was £8.99 Now £6.74

Bioglan Biotic Balance Women gives you 30 one-a-day capsules that promote healthy digestion, hormonal balance, and immune function. Each capsule contains 20 billion live good bacteria from 12 specially selected strains that naturally occur in the female body.
Was £25.49 Now £19.12

Top up your Vitamin D levels with an easy to take chewable tablet.
Was £9.49 Now £7.12

Bioglan Active Curcumin is a high strength formulation containing 95% curcuminoids, the effective compounds within Turmeric, for maximum benefit compared to standard Turmeric products.
Was £24.99 Now £18.74

Bioglan SmartKids Brain Formula contains essential fish oils and is especially designed to help support health brain function, to make sure your little ones get the best support possible.
Was £9.50 Now £7.13

Find a multi-vitamin suitable for the whole family. Easy to take, tasty and packed with nurtients.
Was £7.49 Now £5.62

Flavourless marine collagen powder perfect addition to all drinks & baking.5,000mg clinical dose of collagen in a 30 day supply
Was £29.99 Now £22.49

Only collagen gummie available in the UK market. Convenient and delicious tasting gummie
Was £18.99 Now £14.24