trendeo is live! Shop direct from leading fashion suppliers with up to -75% off RRP with 15% commission!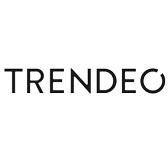 trendeo has finally arrived on Affiliate Window!
We are trendeo - a new fashion marketplace enjoying incredible growth since launching earlier this year.
What makes us special? Good question!
We connect fashion factories and suppliers from all over the UK to get started in retail by launching their own private labels!
We cut out the big retailers. Our sellers list the latest high street styles at a naturally lower price - there's no waiting for a markdowns or end of line sales.
Our sellers have decades of experience in the business, inform us what's in demand and bestselling. They list their best products first - not their leftovers or sale rails. 
We have an incredible team and strong backing. A wealth of experience from people who started or worked at some of the biggest e-commerce fashion sites in Europe.
Growth wise we're adding anything between 300 and 1,000 new products every week. Our target is to reach 40,000 in Q1 of 2017 and we are on track.
We have impressive plans to expand into Europe, starting with Germany very soon.
Sounds cool, right? To get us acquainted - we're offering an unheard of introductory commission rate of 15%!
Become a member of our program now and grow with us! Please don't hesitate to contact us directly for more information.
Team trendeo