totes ISOTONER - Summer Sale Is Live!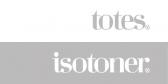 totes ISOTONER & Silverbean Newsletter
Thursday 29th June
Queries / Contact Us...
If you have any queries, or would like to request anything please contact
Natasha Maddison at Silverbean, and she will be happy to help:
telephone: 
+44 (0) 191 406 1200
In Association with totes ISOTONER's Exclusive Affiliate Partners Agency.
Tags: 50%off, 60%Off, 70%OFF, childrensgifts, childrensslippers, gifts, Poncho, Slippers, summersale, totesisotoner, umbrellas