---
Top Rated Flowers At Serenata Flowers
Here are just a selection of our top rated products, so rest assured that if you choose to send one of these products, they are bound to bring delight and a smile to the recipient...
Walk through a colourful wonderland, a visual tapestry of bright Germini blooms punctuated by delicate Freesia scents, all beautifully interspersed by daisy-like Chrysanthemums and ruscus foliage. An absolutely delightful gift for flower fans of all ages!
Was £29.99
Now £24.99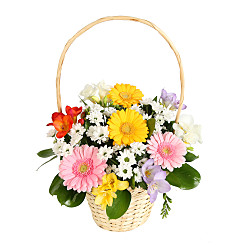 Raise the temperature of your romance with a jungle fever of ivory Avalanche roses and stems of ebony Safari Sunset swathed in forest-green foliage.
Was £39.99
Now £34.99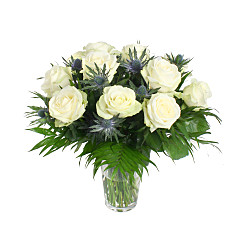 Get your jungle jive on at Club Tropicana - 'cos these showgirl heliconias sure know how to party. Big, bold shapes. Big, bold colours. Big, bold impact.
Was £26.99
Now £19.99

An ebullience of enigmatic flowers. A Russian lovescape to which the prickle of sparkling thistles and contrasting softness of elegant feathers and downy pussy willow lend verisimilitude.
Was £59.99
Now £39.99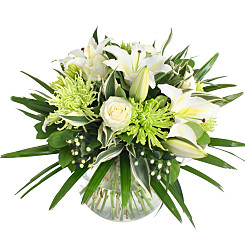 Is there a recipe for the perfect smile? We think our researchers have come pretty close: take a handful of precious pink gerbera daisies, stir in a dash of alstromeria blooms, add a sprinkling of daisy and finish with a swirl of roses.
Was £34.99
Now £29.99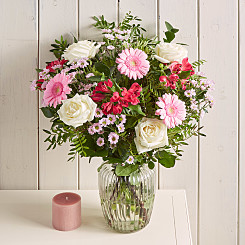 It's time to map out that mental journey you've been planning in the remote wilderness of your mind. Inspiration is easily found in kangaroo-coloured gerberas and leucospermum blossoms with the oddball appeal of strange marsupials darting across a landscape of clay-red roses and dusty eucalyptus.
Was £34.99
Now £24.99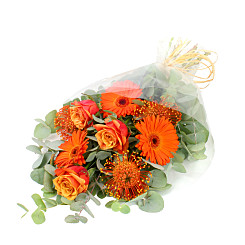 The white blooms and beautiful scents in this bouquet invoke a wonderful sense of peace and tranquillity. Delicate ammi, stunning avalanche roses, scented oriental lilies and stocks with gentle phlox and cascading fountain grass together are the very essence of elegance.
Was £39.99
Now £34.99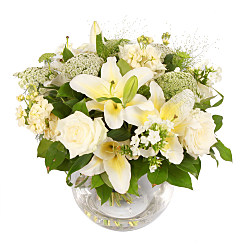 The happiest hug of colours, given with love. Pink-kissed, blushing and pure, this kaleidoscopic cuddle of carnations offers the gentlest caresses…
Our Price £19.99