This Weekend Only | 10% off Orders Over £30 at Chemist Direct
Chemist Direct Affiliate Newsletter
---
This Weekend Only | 10% off Orders Over £30 at Chemist Direct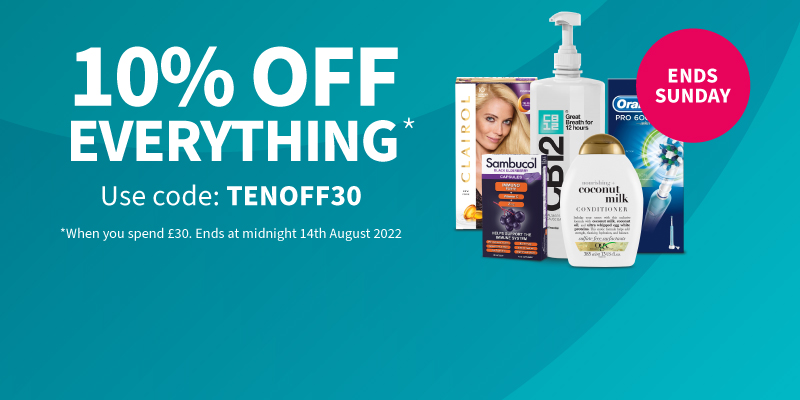 This weekend only - 10% off orders over £30 at Chemist Direct.
Use code - TENOFF30 at checkout.
Expires - Midnight, 14-08-2022.
Terms apply.
Click here to find out more.
SunSense's top quality formulas provide ultra high defence against UVA and UVB radiation, while the addition of vitamin B3 ensures skin is kept soft and moisturised.
Our Price £9.99

Eucerin Sensitive Protect Sun Fluid SPF50 protects sensitive and oily skin from sun-induced skin damage.
Our Price £18.00

Want lightweight moisturisation from head to toe? Enjoy 24 hours of daily hydration for soft and smooth skin with Olay Beauty Fluid Face & Body Moisturiser Normal/Dry/Combo Skin.
Our Price £4.99

Balmonds Skin Salvation 120ml is a rich, oil-based ointment that can be used by all ages (from six weeks), and on all skin types and anywhere on the body, making it a one-pot wonder for all your skin needs.
Our Price £19.99

IMODIUM® Classic capsules are effective relief from diarrhoea - in just one dose. They can help to restore your body's natural rhythm.
Our Price £9.19

Nytol One-a-Night Tablets are the UK's number 1 over-the-counter sleeping aid thanks to their ability to tackle temporary sleeplessness as they help you drift off into a natural, restful sleep.
Our Price £6.19

Breathe Right Congestion Relief Nasal Strips Clear Large Six Pack- help to relieve nasal congestion caused by colds and allergies, helping you sleep better throughout the night.
Our Price £28.44

Centrum Advance 50+ is a daily vitamin that supports vitality, immunity, eye health, and bone health. It is specially formulated to meet the needs of adults 50 years and over.
Our Price £14.49

Natures Aid Muti-Vitamin Mini Drops combine 9 essential vitamins to help maintain your child's healthy growth. Orange flavour. Suitable for vegetarians.
Our Price £7.99

Gaviscon Double Action Tablets bring fast soothing and long lasting relief from the pain and discomfort of heartburn and acid indigestion.
Our Price £8.49