---
Themed Gift Hampers From Hampergifts.co.uk
With festive season fast approaching chose from our themed gift hampers to make the holidays even more special! From a cuddly gift for mum, a patriotic best of British food tower, an indulgent champagne breakfast hamper or if you are a Halloween fan stock up your sweets cabinet with our Fizzy Favourites Retro Hamper! Shop now and receive 5% Off your order with code SEP5HAMP until 30th September 2016! 
Treat someone to breakfast in bed in style! This charming breakfast hamper is crammed with treats including tea, fresh ground coffee, a pair of marmalades - including tangy grapefruit & lime and a medal winning whisky marmalade - a deliciously sweet plum, pear & apple jam plus four moist, mouth-watering muffins!
RRP £22.50
Our Price £20.25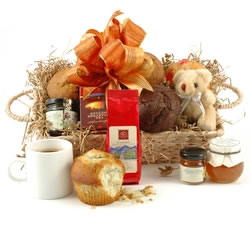 Take a well deserved mid-afternoon break with our Tea & Coffee Break Tower. Presented in five cocoa and sky blue gift boxes, the carefully selected contents are sure to please everyone in the home or office.
Our Price £34.99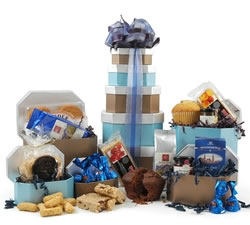 If you love sherbet and all things fizzy we have the gift for you! A dedicated 'fizzy favourites' hamper for you to enjoy. If you love that sherbet twang or the fizzy tongue from popping candy this is most definitely fizzy retro sweet heaven for you.
Our Price £42.95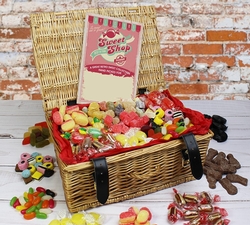 Relax, run a hot bath and let our luxurious Bath themed tower do the rest. This exclusive treat is jam packed with a fantastic selection of scented bath products for the ultimate pampering session. Light the scented candle and let the perfumed soap, massage bar, fragrant bath blaster, bath brulee and aromatic bath buttercup work their magic.
Our Price £40.00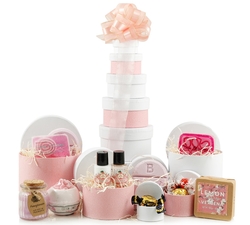 A stunningly presented, pink-hued rosé from Château de Beaulieu arrives with an adorably cuddly, soft and floppy-eared 'love you' puppy. Open the metallic red gift box and you'll also discover a mouth watering selection of Belgian & Swiss chocolates - just perfect for the one you love.
Our Price £45.00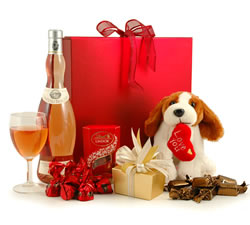 For every one of these lavish chocolate hampers sold we donate £5.00 to Rainbow Trust Children's Charity to help raise a smile for the children they support. This charming gift contains a wonderful traditional Rag Doll with a tasty selection of chocolate goodies.
Our Price £39.95
Serve the half-bottle of Louis Dornier Champagne alongside five American-style muffins in three mouth-watering flavours.
Our Price £57.99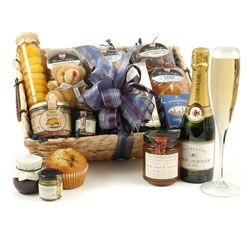 A gift for someone who enjoys beers from closer to home (or someone abroad who misses them?), this impressive beer hamper contains three large bottles of the best English ale, plus chocolates, nuts, olives, oatcakes and other snacks which can be enjoyed with the traditional ales.
Our Price £44.95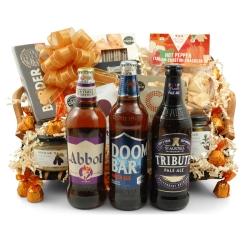 The lucky recipient of this delightful beer gift won't wait long to crack open the pair of premium Continental lagers. But the delicious goodies are sure to grab their attention too!
Our Price £29.00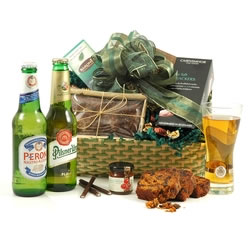 Whoever has the good fortune to receive this patriotic hamper will get the chance to eat their way round the British Isles.
Our Price £36.00