The White Company: New Autumn Line

Hello everyone,
I hope you're having a great week and enjoying the sunshine.
The White Company's beautiful `New Autumn` collection is now available. We've handpicked some of our favourites to inspire you – would be great if you could feature these (or your own favourites) in a piece on your site.
New Autumn Arrivals 2014
Stylish trans-seasonal dressing has never been easier with our new beautiful collection. Versatility and style are at the heart of every single beautiful piece; whether it's a wear-with-everything white T-shirt, a luxurious suede jacket or a sleep silk dress.
Silk Trim Jersey T-Shirt - Winter White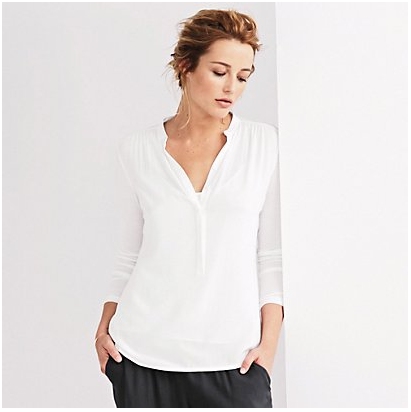 With a woven body and jersey sleeves, this simple but smart, mixed-fabric blouse is perfect for layering. The modal and rayon combination gives the look of a shirt with the feel of a comfortable T-shirt, with soft jersey featuring across the back shoulders to enhance the relaxed fit. We've added little gathers to the shoulder seams to keep it feminine, as well as concealing the button fastenings.
£65.00
DEEPLINK:
http://www.awin1.com/cread.php?awinmid=4802&awinaffid=!!!id!!!&clickref=&p=http%3A%2F%2Fwww.thewhitecompany.com%2Fclothing%2Ftops%2Ftops%2Fsilk-trim-jersey-tshirt--winter-white%2F
3/4 Sleeve Floaty A-Line T-Shirt - White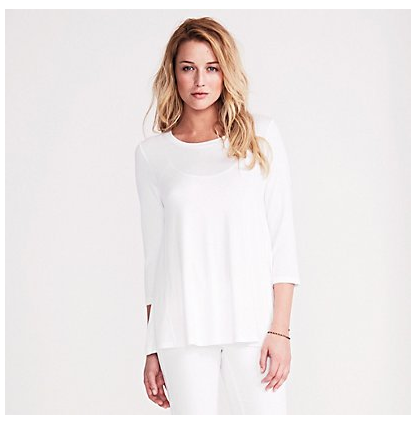 In a wonderfully loose-fit style, this handy A-line T-shirt has a lovely relaxed feel and is perfect for throwing on for effortless dressing. We've added extra panels to each side at the hem to really enhance the shape, and a centre back seam for a hint of structure.
£40.00
DEEPLINK:
http://www.awin1.com/cread.php?awinmid=4802&awinaffid=!!!id!!!&clickref=&p=http%3A%2F%2Fwww.thewhitecompany.com%2Fclothing%2Ftops%2Fwhite-tshirts%2F3%2F4-sleeve-floaty-aline-tshirt--white%2F
Asymmetric Jumper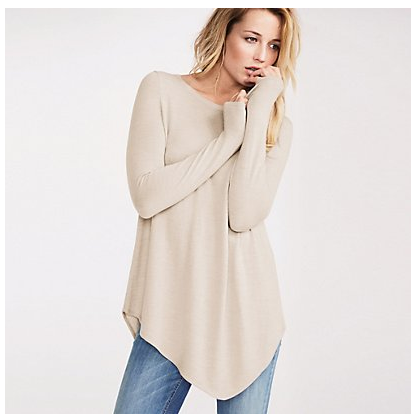 The asymmetric hem on this lovely loose jumper gives it a really flattering shape that's perfect for just throwing on over a simple white layering vest. In a slightly longer length and with long fitted sleeves, this is a really cosy piece for the start of the colder months.
£75.00
DEEPLINK:
http://www.awin1.com/cread.php?awinmid=4802&awinaffid=!!!id!!!&clickref=&p=http%3A%2F%2Fwww.thewhitecompany.com%2Fclothing%2Fknitwear%2Fjumpers%2Fasymmetric-jumper--biscuit%2F
Chunky Long Stitch Cardigan – Eclipse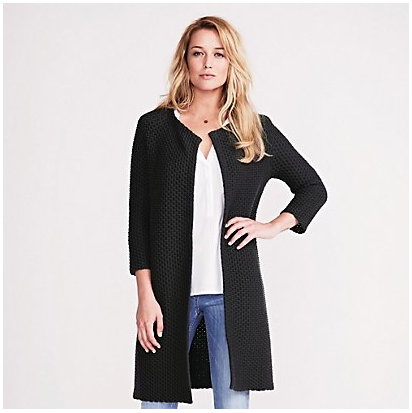 With a lovely, all-over textured finish, this must-have long cardigan is effortlessly stylish. We've kept the style straight and clean-cut for a slightly smarter feel. A beautifully versatile piece.
£145.00
DEEPLINK:
http://www.awin1.com/cread.php?awinmid=4802&awinaffid=!!!id!!!&clickref=&p=http%3A%2F%2Fwww.thewhitecompany.com%2Fclothing%2Fknitwear%2Fcardigans%2Fchunky-long-stitch-cardigan--eclipse%2F
Curved Hem Merino Jumper - Eclipse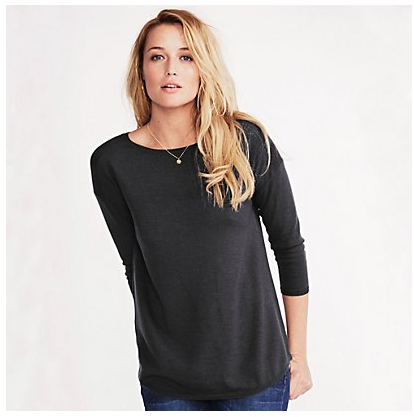 Fabulously soft and a brilliant insulator, this lovely light jumper doesn't need to be thick and textured to be cosy - a lovely elegant piece for your new-season knitwear collection with its loose swing shape, curved hem and 3/4 sleeves.
£80.00
DEEPLINK:
http://www.awin1.com/cread.php?awinmid=4802&awinaffid=!!!id!!!&clickref=&p=http%3A%2F%2Fwww.thewhitecompany.com%2Fclothing%2Fknitwear%2Fjumpers%2Fcurved-hem-merino-jumper--eclipse%2F
Pleated Drop Waist Dress - Ash Rose

A lovely day-to-evening style, this gorgeous drop waist dress is the perfect blend of flattering and feminine. The loose-fit, shift style suits any shape and looks lovely dressed up with heels, while the long cuffed sleeves make it a between-seasons must-have.
£95.00
DEEPLINK:
http://www.awin1.com/cread.php?awinmid=4802&awinaffid=!!!id!!!&clickref=&p=http%3A%2F%2Fwww.thewhitecompany.com%2Fclothing%2Fdresses-and-tunics%2Fpleated-drop-waist-dress--ash-rose%2F
Skinny Jeans - Pale Grey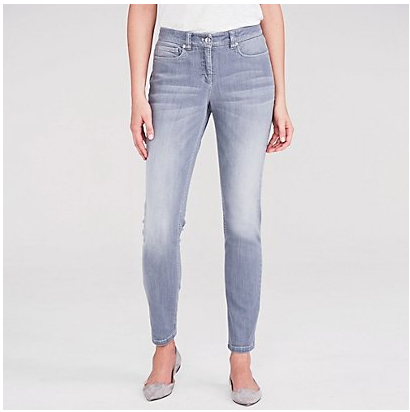 We think these are the softest, most comfortable skinny jeans you'll find. Made of high-quality cotton with a touch of elastane for great stretch and fit, the slightly low rise shape features classic five-pocket styling with a flattering slim leg.
£90.00
DEEPLINK:
http://www.awin1.com/cread.php?awinmid=4802&awinaffid=!!!id!!!&clickref=&p=http%3A%2F%2Fwww.thewhitecompany.com%2Fclothing%2Ftrousers-and-jeans%2Fskinny-jeans--pale-grey%2F
Woven Maxi Skirt – Clay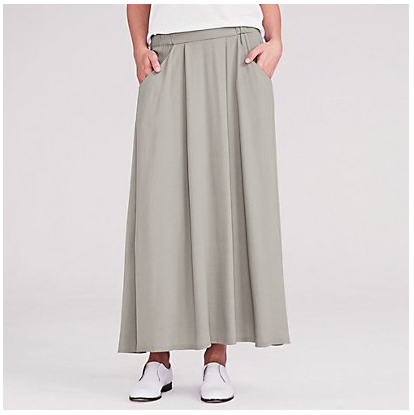 From weekends away to parties in the garden, this versatile maxi skirt is a great trans-seasonal piece. We've added deep front pockets to keep it nice and casual and a single large pleat across the front. The neat waistband is only elasticated at the back for a lovely chic finish.
£85.00
DEEPLINK:
http://www.awin1.com/cread.php?awinmid=4802&awinaffid=!!!id!!!&clickref=&p=http%3A%2F%2Fwww.thewhitecompany.com%2Fclothing%2Fskirts%2Fwoven-maxi-skirt--clay%2F
Skinny Cargo Trousers – Eclipse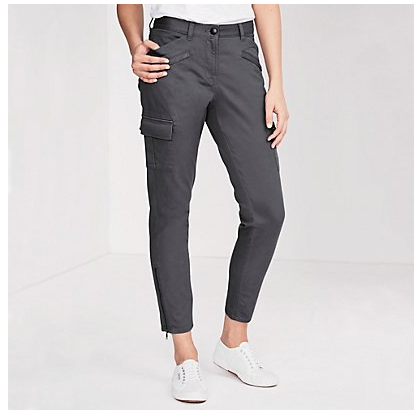 A wardrobe essential when it comes to between-season dressing, our skinny cargo trousers are timeless, flattering and easy to dress up or down. With pockets galore, this laid-back style has an androgynous feel that looks great contrasted with ballet pumps or heels. We've added pockets to each thigh for a classic utility touch, and silver zips on the ankle cuffs to finish.
£95.00
DEEPLINK:
http://www.awin1.com/cread.php?awinmid=4802&awinaffid=!!!id!!!&clickref=&p=http%3A%2F%2Fwww.thewhitecompany.com%2Fclothing%2Ftrousers-and-jeans%2Fskinny-cargo-trousers--eclipse%2F
Remember, there's also a free delivery code to have your picks delivered straight to your doors.
Code: AD807
http://www.awin1.com/cread.php?awinmid=4802&awinaffid=!!!id!!!&clickref=&p=http://www.thewhitecompany.com/?CM_MMC=Affiliates-_-AWIN-_-Autumn2012-_-text&ProGrpCode=AD807
Thanks for taking the time to read this content pack and we hope you find it useful. If you have any feedback we'd love to hear from you at thewhitecompany@affiliatewindow.com
Thank you,
The White Company Affiliate Team