The NFL is Coming!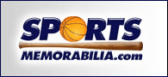 The San Francisco 49ers and the Jacksonville Jaguars will meet at Wembley Stadium on Oct 27th, and true fans will want to honor their favorite players and teams.  Luckily that's easy thanks to SportsMemorabilia.com.
SportsMemorabilia.com offers both gear to wear and signed memorabilia at prices starting as low as under $50 US.
San Francisco fans will find signed jerseys, helmets and photos from greats like Joe Montana, Jerry Rice and Steve Young.  Jacksonville fans will find gear from Maurice Jones-Drew, Justin Blackmon and Fred Taylor.  Fans of other teams can buy items from their heroes as well.
In addition to NFL items, SportsMemorabilia.com offers signed memorabilia from many other sports including baseball, basketball, hockey, tennis, boxing and NASCAR.  There's even jerseys signed by Wayne Rooney, Cristiano Ronaldo and Pele!
SportsMemorabilia offers a 30 day cookie and 12% commission.  Their product catalog is updated daily, covering 11 sports with over 35,000 products.  They are optimized for mobile, and ship globally.
Join SportsMemorabilia.com today!
Tags: collectibles, NFL, sports