The fantastic sale at Dreams continues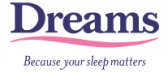 Dear Affiliates,

I hope you are well and having a great day so far.
The Dreams sale is still on, offering a vast range of products at fantastically reduced prices. Take a look at a sample of the savings you could make:

Starling Mattress- was £1389 NOW £399.99
http://www.dreams.co.uk/sale/starling-mattress/
Riva Bedstead- was £549.99 NOW £149.99
http://www.dreams.co.uk/sale/riva-bedstead-dark-tan/
Lazio Bedstead (Dark Brown)- was £269 NOW £99
http://www.dreams.co.uk/sale/lazio-bedstead-brown/

In addition to these fantastic savings, Dreams also offer free delivery on beds and mattresses and a '40 night comfort guarantee' so be sure to take a look.
With so many fantastic offers available it would be great to get these offers posted on your sites where possible.

If you have any questions, please be sure to get in touch.

Many thanks and have a great day.

Christine Torlay | Affiliate Account Manager
nonstopConsulting UK Ltd
Tags: beds, divan beds, dreams, sale, summer sale