The Entertainer - Gift Cards
Hi partner
We all know someone that has everything already or wants something that is out of stock, but you need to still buy them a gift.....that's where our trusty gift cards come in handy.
They can be used online or in store and can used on discounted toys or toy bundles, basically anything. One card can hold as much as £250, imagine the fun you could have with that! You could pay also pop a minimum of £10 on a card, ideal as a secret santa gift if you still haven't got yours. We have over 600 toys that are £10 or less, so you'll be sure to find the best gift ever!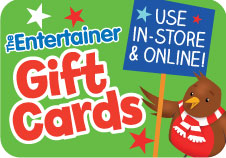 http://www.thetoyshop.com/gift-cards/The-Entertainer-Gift-Card/p/99870000001_X
For the best children's gift in the world, buy a toy from The Entertainer.
thanks
The Entertainer