The best ways to save on hungryhouse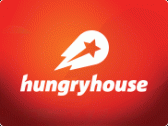 Morning affiliates,
As our customers are much more price sensitive following the Christmas period, we will be launching a site dedicated to saving, which customers can visit for the easy way to more takeaway!
This landing page will make it easier for new and existing customers to locate special offers and discounts on hungryhouse.
Customers will be able to access the following offers:
Reward stamps - Order 5 times from one restaurant and get a 50% discount on the 6th order.
Taste test - Get a 20% discount on your first order from restaurants that offers the 'taste test' discount.
The landing page will be available as of the first week of January and I will update everyone on the exact date.
You will be able to redirect all the customers to this page, where they will find all the useful information.
Please feel free to contact us on constance.carakehian@deliveyhero.com if you rerequire further information
Your Hungryhouse Affiliate Team