---
The Beautiful Florist Choice At Serenata Flowers
Discover our Florist Choice this week here at Serenata Flowers, beautiful bouquets with up to £30 off - but hurry, these products are subject to available stock.
Classic vintage colours combine in this spectacular bouquet, with wonderfully scented Freesias, cheerful Germini, the classic beauty of Roses and Leucadendron foliage.
Was £34.99
Now £29.99
Save £5.00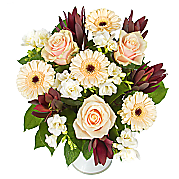 Inspired by Shakespeare's Oberon, this stunning bouquet is dark, mysterious, magical and beautiful, a glorious tribute to a fairy tale King.
Was £34.99
Now £29.99
Save £5.00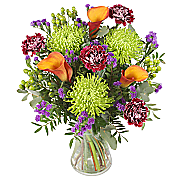 Sunny yellow Roses and Germini shine through in this gorgeously bright and cheerful bouquet!
Was £34.99
Now £29.99
Save £5.00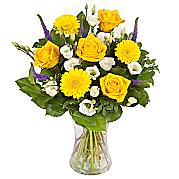 If there was an autumn at the equator, this is what it would look like. Tantalising orange Orchids combine with lilies; roses and tropical foliage to make this exotic bouquet.
Our Price £29.99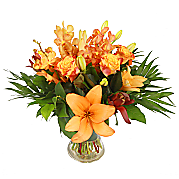 Soft, pale hues are well suited to expressing true intentions - and this opulent bouquet of Avalanche roses, waxen freesias and snowy eustoma glimmering below starlight-tinted ornithogalum and a milky way of lilies and golden bupleurum articulates not only with candour, but with classic style.
Was £129.99
Now £99.99
Save £30.00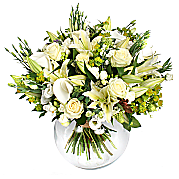 Immersed in ethereal mythology the name Ianthe means purple flower, and the swathes of deep purple Lisianthus petals, Trachelium and Veronica are brought together with the purest white Roses in this magical bouquet.
Was £39.99
Now £29.99
Save £10.00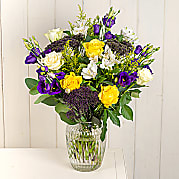 The vibrant red roses watch over the delicate scattering of Gypsophilia, like a Prince watches over his Princess, these are the things dreams are made of.
Our Price £34.99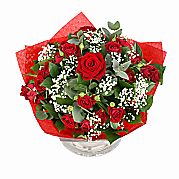 Is there a recipe for the perfect smile? We think our researchers have come pretty close: take a handful of precious pink gerbera daisies, stir in a dash of alstromeria blooms, add a sprinkling of daisy and finish with a swirl of roses.
Was £34.99
Now £29.99
Save £5.00