Textlocal launch on Affiliate Window – 20% commission!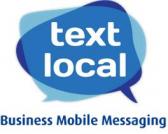 We are excited to announce the launch of the Textlocal affiliate program on Affiliate Window.
Textlocal, the UK's leading business SMS platform currently work with over 120,000 businesses to help send out their text communications. Recognised as one of the fastest growing technology companies in Europe, Textlocal are a great company to get involved with. Through the cloud based platform's market leading functionality, users can communicate with numerous contacts at once, and even add attachments, surveys, tickets, vouchers and loyalty cards to their messages too. Due to the ease of use of the platform, Textlocal is easily accessible for any type of user – from large businesses, right down to individual users. There are no sign-up fees or contracts, messages are purchased on a Pay As You Go Basis, and the credits never expire.
The Textlocal affiliate program offers publishers a unique and potentially extremely lucrative proposition, with a base commission rate of 15% on all purchases made through your links. The commission will not just be payable on the first sale through your link, but also for every further purchase that the customer makes for the entire first year of them signing up to the platform. Commission is not payable on any purchases less than 2.5p per message.
To celebrate the launch of the program, we are offering a huge 20% commission for the first three months of the program going live. It's a great incentive to get involved! 
We're really keen for you to get involved, and we're happy to support all kinds of exposure that publishers are able to offer. To find out more about the program, please get in touch with naomi.rose@txtlocal.com , and we can discuss how getting involved in the Textlocal affiliate program can benefit you. 
To sign up to the program, please click here - https://ui.awin.com/awin/merchant/6217/profile