Suit Direct Announce International Delivery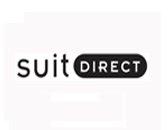 Great news - Suit Direct now offers international dispatch to customers, we want everyone to be able to benefit from our great ranges at unbelievable prices!
If affiliates would like to promote the international reach of Suit Direct and our fantastic, low priced, big name brands we will shortly be adding international delivery banners to our creative portfolio.
In the meantime please feel free to promote internationally the shipping details are:
Europe
Austria, Belgium, Channel Islands, Denmark, Finland, France, Germany, ROI, Italy, Luxembourg, Netherlands, Norway, Portugal, Spain, Sweden and Switzerland
Delivery
£16.95, delivery approximately 5 working days
Rest of the world
USA - £30, delivery approximately 5 working days
Canada – £35, delivery approximately 5 working days
Australia - £40, delivery approximately 9 working days
We will continue to add new countries so be sure to check back for updates if a country isn't detailed above.
Not already part of the Suit Direct Affiliate programme? No problem join us today and start reaping the rewards straight away.
Suit Direct Affiliate Team
Tags: dinner suits, mens suits, menswear, suit direct, suit jackets, suit trousers