---
The Star Wars Film Collection At Sock Shop

Discover exclusive Star Wars socks from the films featuring your favourite characters, perfect for adding some fun and personality to those office looks or casual ensembles.
If you're a Star Wars fan, we're pretty sure that we don't need to use the Force to convince you that THESE are the socks you've been looking for! A fabulous value pack of five pairs of cotton rich socks, you need these SockShop Disney Star Wars Heroes Yoda.
Our Price £12.99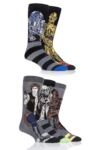 For the Star Wars fan, these officially licensed cotton rich socks are a great way to wear your favourite movie franchise for work or casual days. The men's SockShop Star Wars Logo and Darth Vader Socks triple pack contains two pairs of 'The Force Awakens' motif socks and one pair of Darth Vader socks.
Our Price £7.99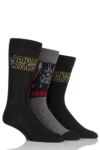 The perfect socks for the sinister Sith Dark Lord of the house, these men's SockShop Disney Star Wars Darth Vader Cape Socks are evil personified – if by 'evil' you mean soft, comfortable cotton blend socks with their own attached capes! Imagine them flapping wickedly behind you, as you execute another house guest who's outstayed their welcome with a mere squeeze of your hand!
Our Price £5.99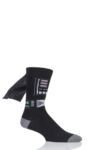 These aren't your father's Star Wars heroes (especially if it's Darth Vader who is your father) but these latest generation characters are winning fans across the galaxy. If you are one of those fans, then these men's Star Wars New Heroes BB-8, Rey and Finn Socks should be in your sock drawer and on your feet!
Our Price £7.99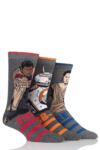 Astoundingly, even after 39 years, Star Wars still seems to catch the imagination of the young and now not-so-young, so there is a good chance that these kids SockShop Star Wars R2-D2 and C-3PO Socks will be popular with their recipients.
Our Price £4.99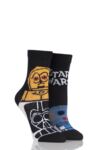 With their 'The Force Awakens' motifs set high on the leg, you should be able to get away with wearing these Men's SockShop Star Wars Logo Plain Socks for most occasions, knowing all the while that while perhaps you're out working for some evil Empire or other, you are still supporting the Jedi and the Rebel Alliance on your ankles.
Our Price £7.99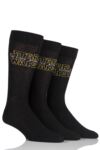 Are you more Sith than Jedi? More Evil Empire than Rebel Alliance? Then suit up (using the force obviously – no touching allowed) in one of the three pairs of Star Wars New Villains Kylo Ren, Captain Phasma and Storm Trooper Socks.
Our Price £7.99