Spring Buys + Free Delivery on Orders Over £40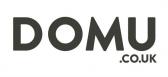 Calling All Affiliates!
Spring is nearly here, and Easter is around the corner, so this week we are promoting a fantastic range of products that we just know customers will want to buy.
In addition to the above categories, I have put a range of products below, both brand new and current stock that will be great to push out to customers due to their fantastic price points:
Don't forget that we offer Free delivery on all orders over £40!
On another note, we are always looking to work exclusively with affiliates, so if this sounds like something you would be interested in, please feel free to email affiliateteam@domu.co.uk.
Happy Selling!
Domu Affiliate Team