---
Spring and Summer Hampers at Hampergifts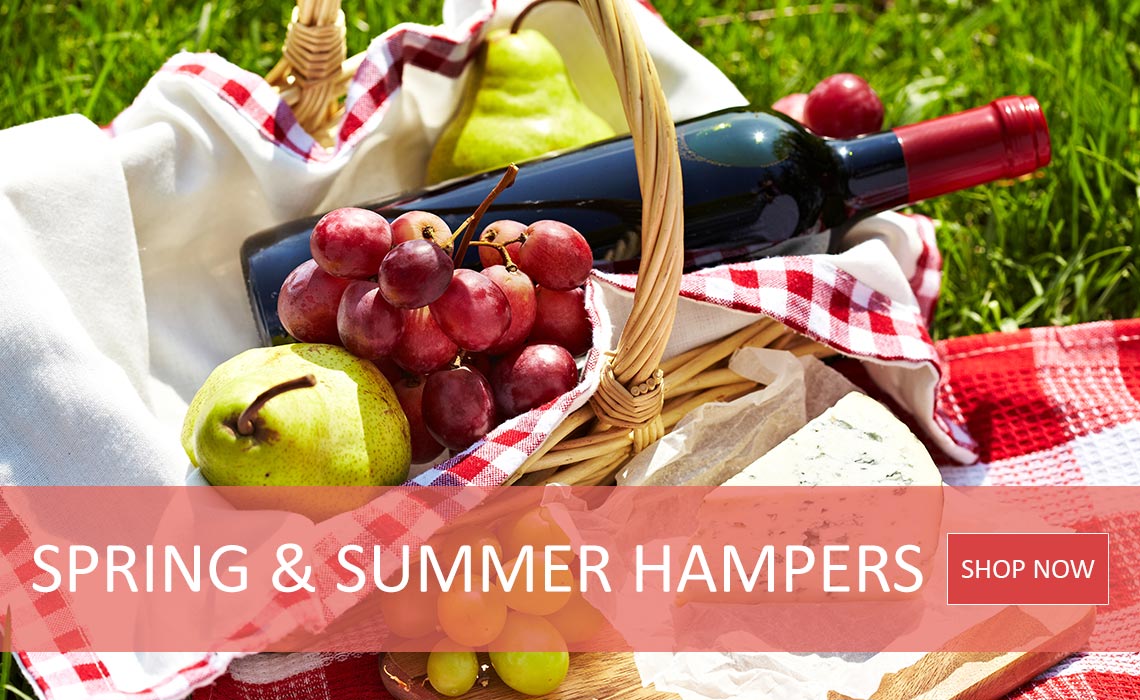 Our Spring and Summer Hampers are filled with seasonal treats that will bring a ray of sunshine to the lucky recipient and come in a variety of gift wrapped packaging, from beautiful wicker baskets to brightly coloured stacked towers.
Shop the full selection here.
Treat someone to breakfast in bed in style! This charming breakfast hamper is crammed with treats including tea, fresh ground coffee, a pair of marmalades - including tangy grapefruit & lime and a medal winning whisky marmalade - a deliciously sweet plum, pear & apple jam plus four moist, mouth-watering muffins!
Our Price £24.99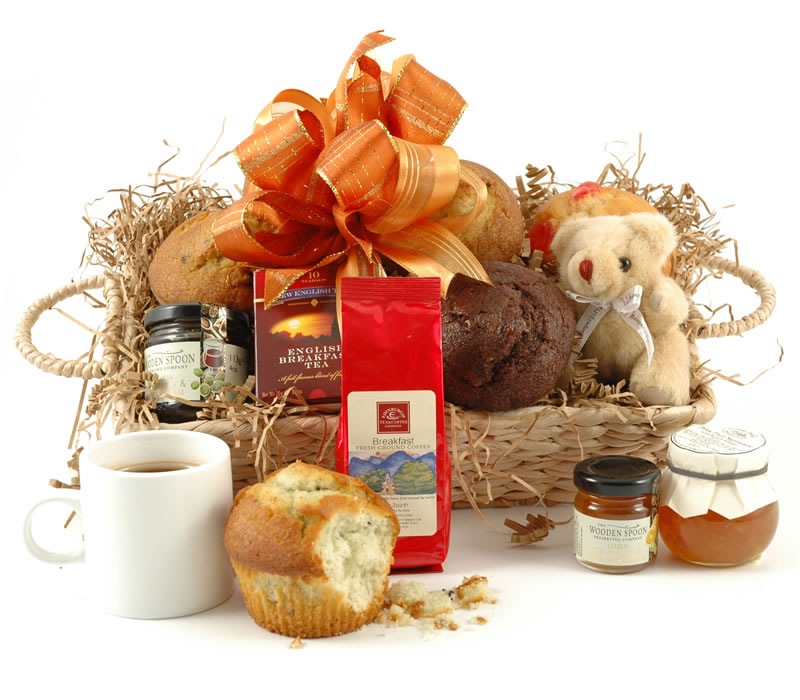 The lucky recipient of this delightful beer gift won't wait long to crack open the pair of premium Continental lagers. But the delicious goodies are sure to grab their attention too! Cut a slice from the extra large fruit cake, enjoy the parmesan oatcakes with some spiced tomato chutney and nibble on the Belgian chocolate mint sticks.
Our Price £29.00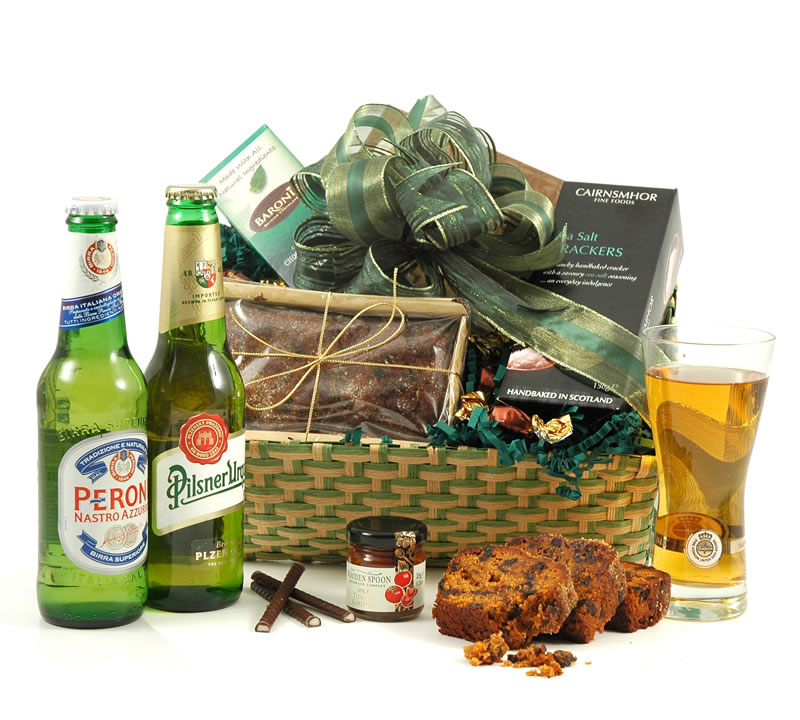 This gorgeous childrens white wash basket has faux leather straps and a removable white cotton lining. And of course this mini picnic hamper also has a few treats packed inside to enjoy! Lift the hinged lid to reveal lemon cookies, pineapple & papaya in syrup, diced mango chunks, apricot flapjack plus a refreshing cranberry & raspberry sparkle to drink.
Our Price £32.50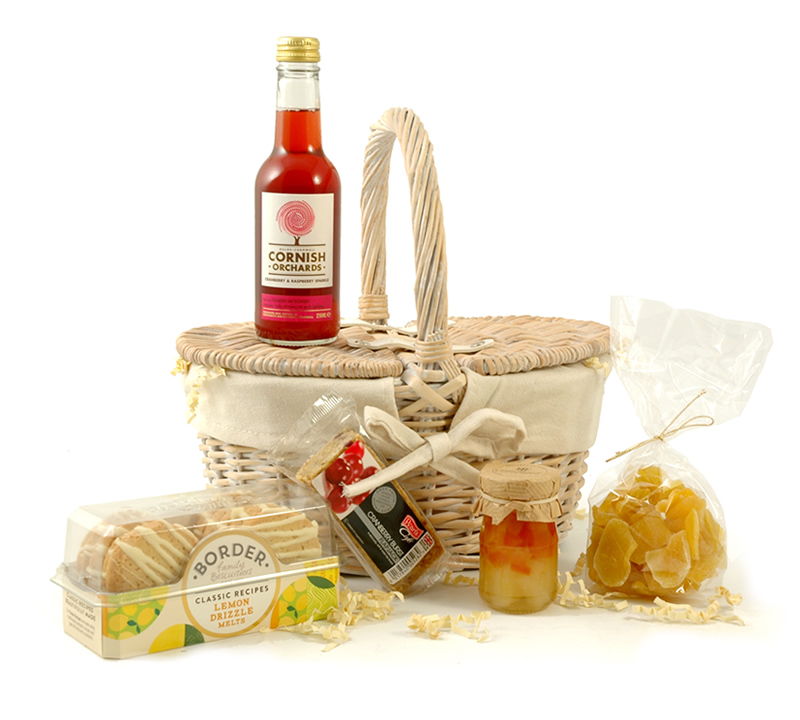 This smart hamper is bursting with goodies all featuring a hint of fruity goodness. Discover delicious lemon drizzle cookies, moist cranberry flapjack or the tasty strawberry extra jam. And after the yoghurt brazils & cranberries and premium Italian orange chocolate sticks have been devoured, the pair of all natural fruit juices are sure to quench your thirst.
Our Price £34.50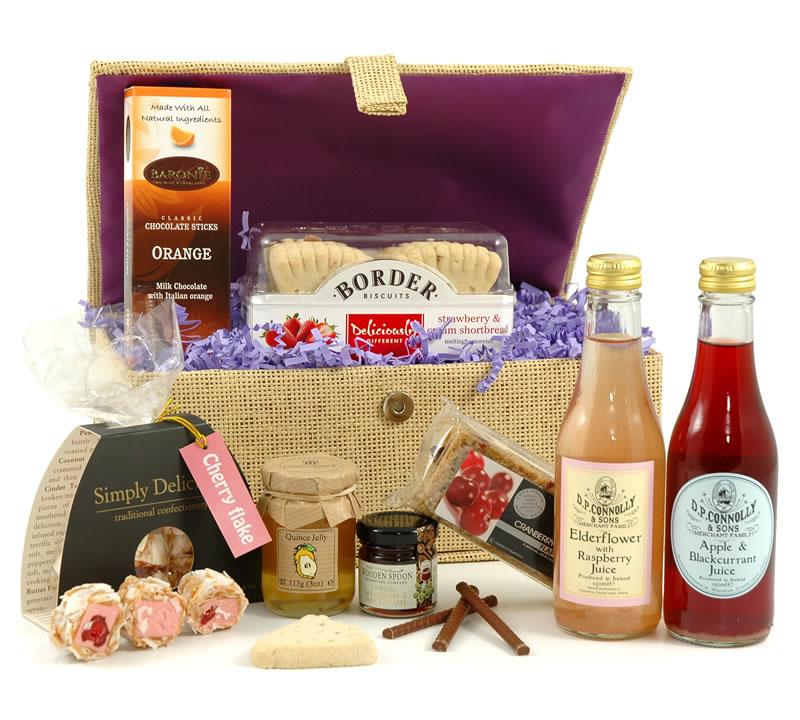 This wicker basket is filled with a selection of light and fruity treats. Enjoy the unusual, award-winning apple fruit crisps, crunchy rosemary flavoured dipping crackers and a spiced harrisa dip to go with them. You'll also find natural olives, a pair of apricot and cranberry flapjacks, yoghurt coated nuts and a pair of sparkling drinks; both of which are medal winners - a zingy and refreshing ginger beer with chilli, along with classic elderflower sparkle.
Our Price £35.99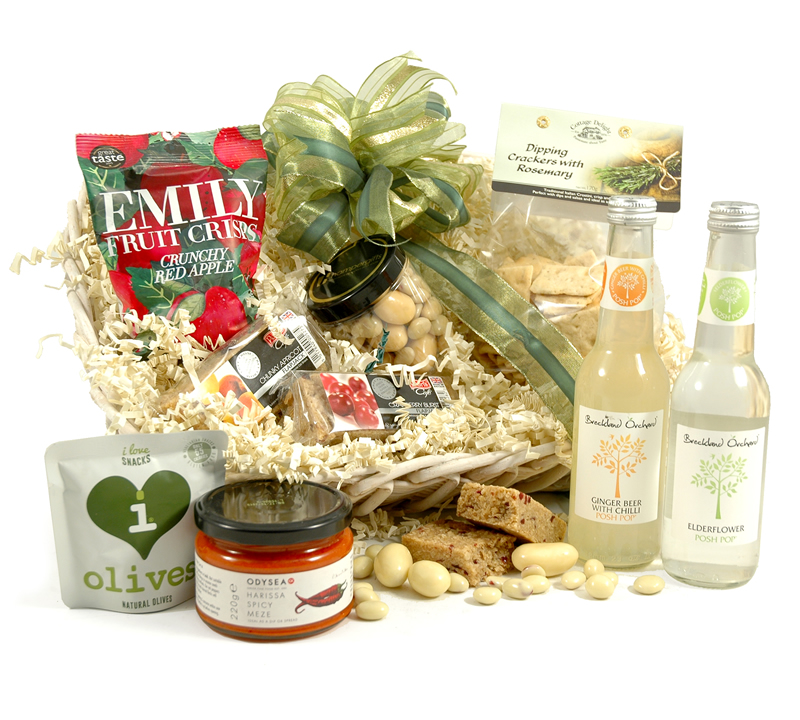 Featuring no less than four medal-winning items, this gift includes premium olives, refreshing elderflower pressé, Belgian truffles, lemon cookies, oatcakes, coffee and more. This lovely non-alcoholic foodie hamper is crammed with an array of lovely treats, all snugly packed inside a reusable white gift box with magnetic fastenings.
Was £35.00
Now £27.30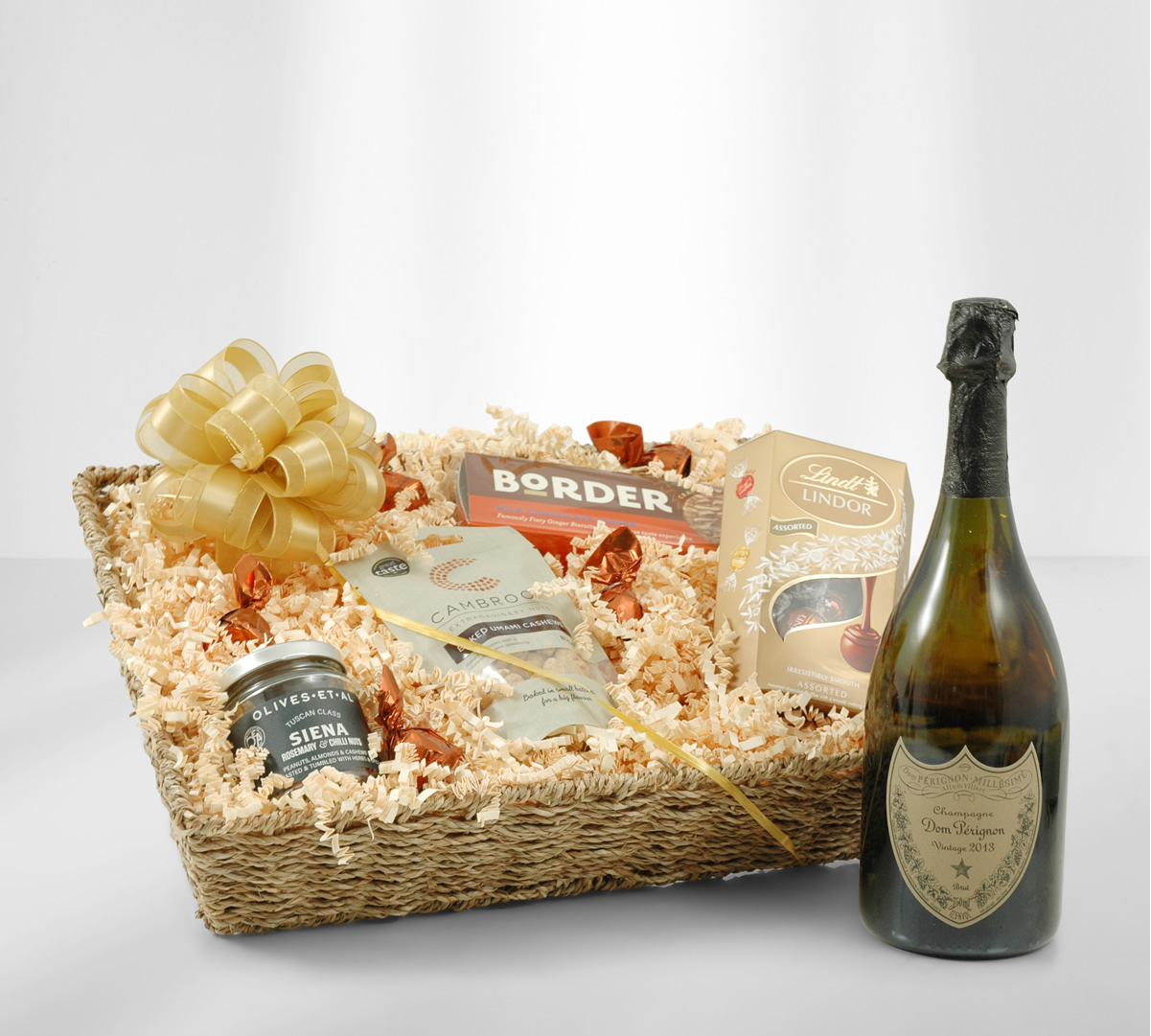 Pack your own picnic with this beautiful wicker hamper. The sturdy semi-circular basket comes with two sets of plates & cutlery leaving space for you to to pack a few goodies. Features tartan cotton lining. And the hinged lid fastens in place with a real leather strap and buckle.
Our Price £36.00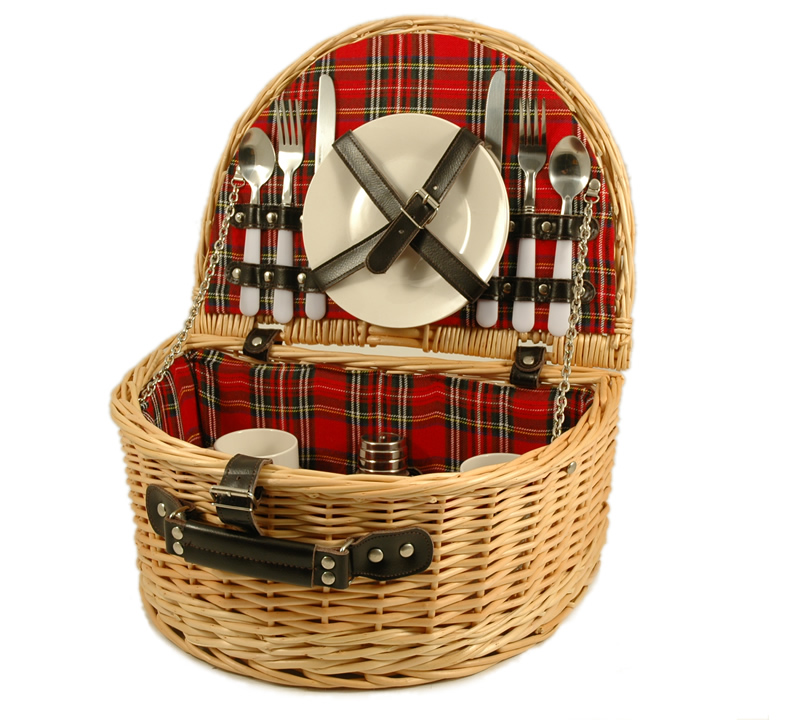 This beautiful wicker hamper includes everything needed for a tasty outdoor feast. You'll love the carefully chosen mixture of snacks and treats, including award-winning apple fruit crisps, rosemary dipping crackers and a fiery harrisa meze dip to go with them. The pair of thirst quenching fizzy pops should help if the spiced dip has a little too much zip! You'll also discover olives, a pair of fruity flapjacks and yoghurt coated peanuts & raisins.
Our Price £59.99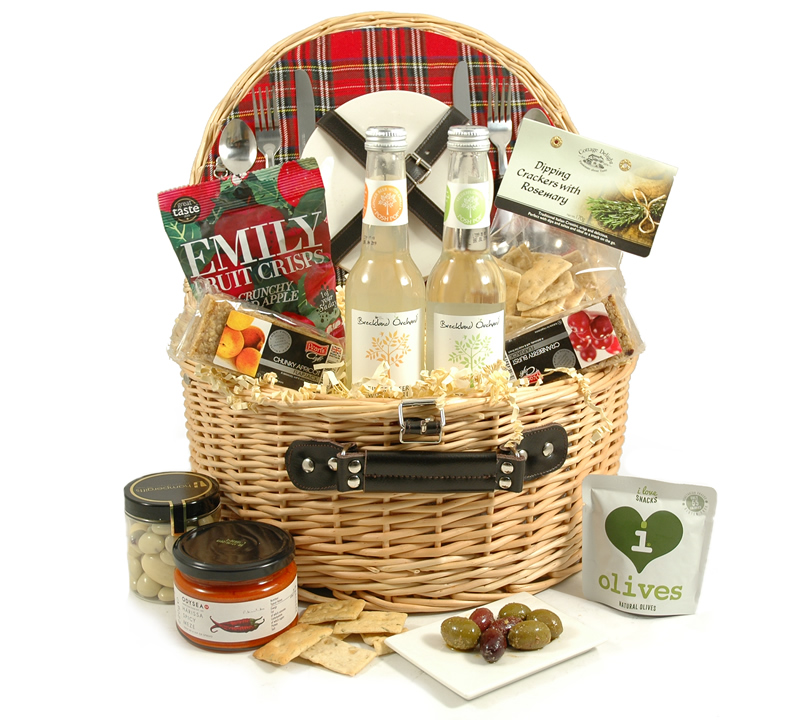 Enriched with extracts of Peruvian Lily, this gorgeous set contains a collection of bath essentials splendidly presented in a reusable jewellery box. Indulgent and full of scented pleasures, this pamper hamper can turn a simple bath into a trip to the Peruvian Andes! Unwind with the vitamin-infused bubble bath, soaps, shower gel, body lotion, body scrub, hand wash and body butter.
Our Price £60.00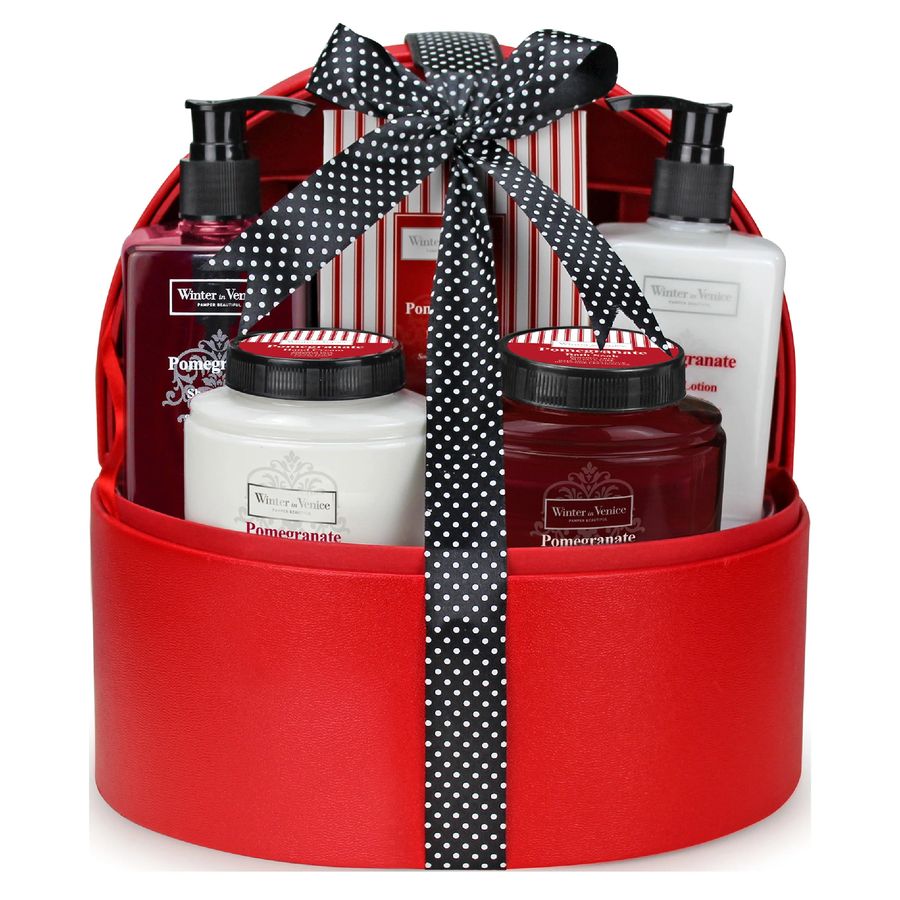 If you're looking for the best of the best, this opulent hamper contains only award-winning items. From highly rated chutney and spiced nuts to gold standard olives, this stunning, magnetically fastened green box makes big promises - and delivers on them! The cracking Chilean Sauvignon Blanc should be savoured alongside the Snowdonia Cheese Company's flagship extra mature cheddar - not forgetting the indulgent jam, which has a refined and memorable taste at any time of day.
Our Price £54.99